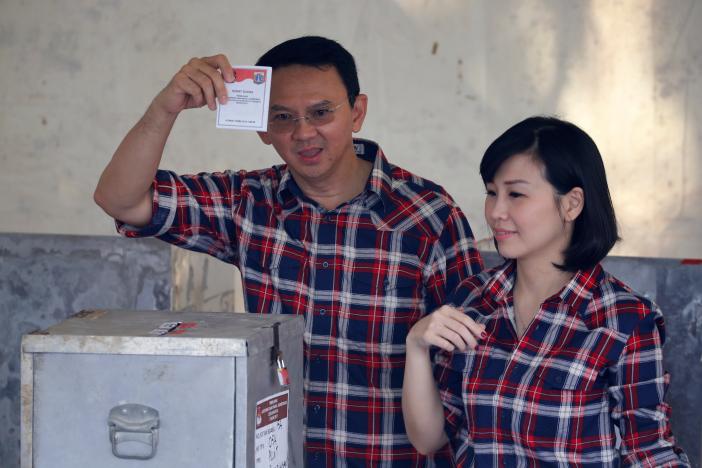 ---
JAKARTA: Indonesians cast ballots on Wednesday in a bitterly fought election to govern the capital, Jakarta, that has inflamed religious tensions in the Muslim-majority nation and been tied to power struggles ahead of presidential elections in 2019.

The job of governor can be a springboard to the presidency and weeks of campaigning have been overshadowed by mudslinging, political intrigue and rising religious sentiment, raising questions about the role of religion in politics.

Indonesia has the world's largest Muslim population but is officially secular and home to minority Christian and Hindu communities, as well as hundreds of ethnic groups.

"I do hope that there will be no more related political and religious tensions after this election," said Hanida Syafriani, a resident of East Jakarta who was supporting the Christian, ethnic Chinese incumbent, Basuki Tjahaja Purnama.

Voting in the capital, alongside scores of other regional polls in the world's third-largest democracy, were peaceful and mostly running without hitches, police said.

Muslim Indonesia's capital to vote in tolerance test

Police deployed 75,000 personnel across Indonesia with 16,000 in Jakarta, concerned groups may again take to the streets to oppose Purnama. Protests rocked Jakarta during the campaign, attracting hundreds of thousands.

Purnama, or Ahok as he is commonly known, is running against two Muslim candidates and the vote is widely expected to go to a second round. He has been campaigning while on trial on a charge of insulting the Quran, a case that has brought Muslims onto the streets, urging voters to shun a non-Muslim as leader.

He denies the charge and his support has rebounded to lead many opinion polls, which analysts attribute to his record of improving the bureaucracy and easing congestion and flooding.

"Some of my Muslim friends do believe he blasphemed and won't vote for a non-Muslim, the case has created differences among us," said Deny S. Pamudji, 57, an ethnic Chinese voter, who spoke outside a polling station just before Purnama cast his ballot.

Purnama's rivals are Agus Yudhoyono, a son of former president Susilo Bambang Yudhoyono, and former education minister Anies Baswedan. Purnama was a deputy to President Joko Widodo when he was the previous Jakarta governor and Widodo's party is backing him.

Baswedan is backed by a former general who Widodo beat in the last presidential election in 2014, Prabowo Subianto, who is promising a comeback to the national stage. "We hope that everybody can return as a family after these elections," President Widodo said after voting in Jakarta.

INK-STAINED FINGERS

Many of the 7.1 million residents eligible to vote posted photos on social media sites like Twitter and Instagram, displaying ink-stained fingers to show they had cast ballots.

Indra Pramono, 40, a Jakarta resident who was backing Baswedan hoped the election could be wrapped up in one round. "Ahok did good actually, but I'm voting for someone with the same faith as me. That's the main reason."

Indonesia attempt to defy odds on ice

The competition has been particularly bitter between Purnama's camp and that of Yudhoyono. Former president Yudhoyono said on Twitter on Tuesday that various figures were trying to sabotage his son's chances.


Apa belum puas terus memfitnah & hancurkan nama baik saya sejak November 2016, agar elektabilitas Agus hancur & kalah *SBY*

— S. B. Yudhoyono (@SBYudhoyono) February 14, 2017


In all, 101 regional elections are being held in the world's third-most populous democracy, for provincial, city and district chiefs. Polling stations will close by 0600 GMT. Quick counts, expected shortly after, are tallies of votes by private polling firms at a sample of voting booths across the city.

The General Elections Commission is expected to announce official results after about two weeks. If no candidate achieves a majority in the first round in any provincial vote, including Jakarta, a runoff is expected between the two candidates securing the most votes.
COMMENTS
Comments are moderated and generally will be posted if they are on-topic and not abusive.
For more information, please see our Comments FAQ