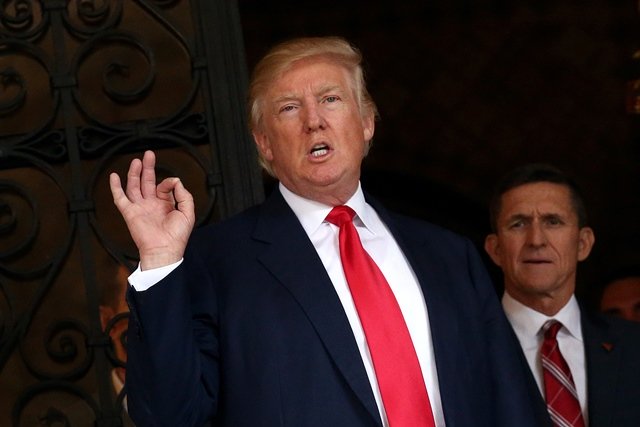 ---
WASHINGTON: Donald Trump's young presidency was plunged into deep crisis Tuesday as the forced departure of a key national security aide triggered calls for an independent inquiry into his administration's contacts with Moscow.

Barely three weeks after Trump stepped into the Oval Office, the resignation of National Security Advisor Mike Flynn over his dealings with Russia's government buffeted a presidency already rocked by leaks, infighting and scandal.

The White House said late Monday that Trump had accepted Flynn's resignation amid allegations the retired three star general discussed US sanctions strategy with Russia's ambassador Sergey Kislyak before taking office.

In his resignation letter, Flynn -- who once headed US military intelligence -- admitted to "inadvertently" misleading Vice President Mike Pence about the substance of the call.

Flynn's unprecedented early departure poured fuel on demands for a full independent investigation into alleged collusion between Trump's inner circle and the Kremlin.

"This. Is. Not. Normal." said Democratic Senator Elizabeth Warren, insisting "Trump owes Americans a full account" of his administration's dealings with Moscow before and after the 2016 election.

North Korea fires ballistic missile, drawing tough response from Trump

The CIA, FBI and other intelligence agencies have already investigated Moscow's influence over the 2016 vote, concluding the Kremlin tried to sway the vote in Trump's favor.

Various committees in the Republican-controlled Congress are already looking into Russia's election-related hacking and the Trump campaign's links to Moscow.

But Democrats are now demanding a fuller investigation, which could bring with it the power to call Flynn and members of Trump's inner circle to testify.

Republicans seemed at odds over how to proceed, with key members of the House of Representatives appearing to rule out further investigation.

Oversight Committee Chairman Jason Chaffetz -- who spearheaded investigations into Trump's presidential rival Hillary Clinton -- said any problem associated with Flynn was "taking care of itself."

In the House -- which has the sole power to impeach the president -- Speaker Paul Ryan praised Trump's handling of the issue but refused to comment on further steps.

"I think we have to get all the information before we prejudge anything," he said.

But Roy Blunt, a Republican senator on the powerful Intelligence Committee, told a local radio station that his panel should investigate Flynn's behavior "exhaustively so that at the end of this process, nobody wonders whether there was a stone left unturned."

CIA director gives medal to Saudi crown prince

Flynn's resignation came after details of his telephone calls to the ambassador, Sergey Kislyak, were made public -- increasing pressure on Trump to take action.

But several US media outlets reported Monday that top Trump advisors were warned about Flynn's contacts with the Russians early this year, reopening questions about who knew about the calls and why Trump did not move earlier to replace Flynn.

The Justice Department had warned the White House that Flynn had misled senior administration officials about the contents of his talks with Kislyak, and that it could make him vulnerable to Russian blackmail, US media reported.

The message was delivered in the last days of Barack Obama's administration by then-acting attorney general Sally Yates -- who Trump sacked after she instructed government lawyers not to defend the new president's controversial travel ban.

White House spokesman Sean Spicer, when asked whether the president authorized or knew about Flynn's discussions about sanctions, said: "No, absolutely not. No way."

The Kremlin on Tuesday said Flynn's resignation was "not our business."

"This is the internal business of the Americans, it is the internal business of President Trump's administration," spokesman Dmitry Peskov told journalists in Moscow.

Until quitting, Flynn had been instrumental in Trump's inner circle.

He was an early supporter of Trump's improbable bid for the presidency and had encouraged tougher policies on Iran and a softer policy on Russia.

Trump senior adviser attacks court after legal setbacks on immigration

That was a sharp break from the Obama administration, which introduced sanctions over Moscow's annexation of Ukraine's Crimea, support for separatists in eastern Ukraine, and what US intelligence says were its attempts to sway last year's election in Trump's favor.

Washington and Moscow had also clashed over alleged war crimes in Syria, where Russia is accused of aiding the bombing of hospitals and other civilian targets. Despite this, Flynn had argued for rapprochement.

Flynn's resignation came just days before Trump's first official talks with Israeli Prime Minister Benjamin Netanyahu, discussions in which the president's national security advisor would normally have a key role.

After Flynn quit, the White House said Trump had named retired lieutenant general Keith Kellogg, a decorated Vietnam war veteran who was serving as a director on the Joint Chiefs of Staff, to be interim national security advisor.

Potential permanent replacements for Flynn reportedly include three retired military brass: Kellogg; retired general and former CIA director David Petraeus; and former vice admiral Robert Harward.