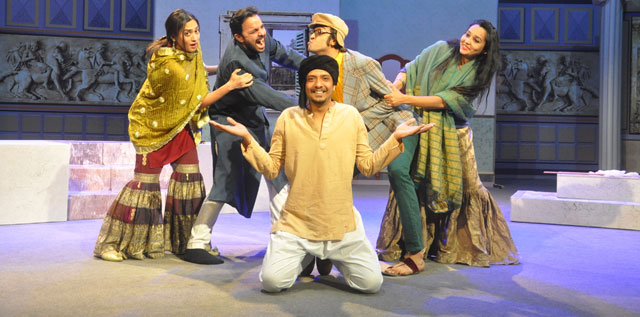 ---
KARACHI: National Academy of Performing Arts (Napa) is set to stage Yahoodi Ki Beti – a classic by eminent Urdu and Parsi playwright Agha Hashar, who is often considered the 'Shakespeare of Urdu.'




In this connection, a press conference was held in Karachi on February 13 wherein renowned actor and Napa faculty member Khalid Ahmed made the announcement. Yahoodi Ki Beti – written over a century ago – will be directed by Ahmed himself. "It was Parsis who helped Urdu theatre flourish here. Even Zia Mohyeddin, in his book, gave credit to Parsis for being the caretakers of Urdu theatre in Pakistan," he said.

Women empowerment: Street theatre performances come to Multan

The thespian went on to explain how the Parsi community established Urdu theatre. "This kind of theatre they produced had a very impactful dialogue delivery. Between the dialogues, poetry was incorporated and even the dialogues were quite poetic. That was a tradition which made the plays very interesting in terms of language," Ahmed stated, adding that Yahoodi Ki Beti follows the same tradition.




The play is set in ancient Rome and revolves around a love affair between rulers. However, it also includes some comic elements which have no direct relation to the plot. "While it is set in ancient Rome, the comic scenes can be set anywhere in Lucknow or Mumbai because they have no direct influence on the main plotline."

Traditional theatre warming up Gilgit's cold streets

Ahmed said that Hashar's plays incorporated content that would also interest and entertain the public, the traces of which can be found in early films made in Mumbai. The plays included songs performed on stage. "It is a complete entertainment package comprised of songs, comedy, drama and wit," he shared. "Our modern style of musicals in the subcontinent actually started from this tradition and it's been the only consistent tradition in our urban theatre. Through this play, we wanted to present it again."




To end patriarchy: Street theatre performances begin from Lahore

The music included in Yahoodi Ki Beti are composed by Arshad Mehmood. "Songs are included when the situation calls for it in the play. I have attempted to work in the context of this tradition. We enjoyed making music with our small orchestra. Hope the audience likes it too," said Mehmood.

The cast of Yahoodi Ki Beti includes Napa graduates and current students such as Nazarul Hasan, Fawad Khan, Marya Saad Fareedi and Aamir Naqvi. Fellow Napa faculty member Akbar Islam also stars in the play. "When I hear about Khalid Ahmed's projects, I try to get involved in it in any capacity," said Islam. "Yahoodi Ki Beti is about prejudice, as you can judge from the title. It also delivers a strong message about the victory of humanity."




Cast member Khan said, "The play was fun to be a part of. I enjoyed its use of poetry and the most important part is that it delivers a message about minorities." Another actor Farhan Alam shared he had wished to work in a big musical since he joined Napa seven years ago. Several other cast members – dressed in their play costumes – spoke about their characters to give the attendees a glimpse of the play.

Yahoodi Ki Beti is to be staged at 8pm between February 16 to 26 at Napa. The ticket price is Rs800 for the general public, whereas students will receive special discounts.

Have something to add to the story? Share it in the comments below.
COMMENTS
Comments are moderated and generally will be posted if they are on-topic and not abusive.
For more information, please see our Comments FAQ