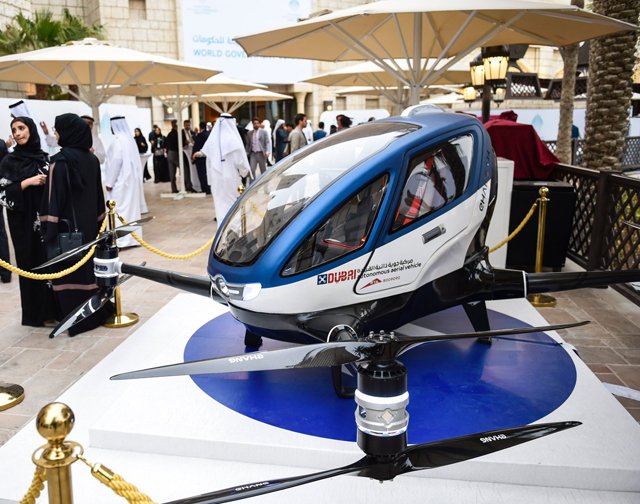 ---
Dubai has tested a Chinese prototype of a self-driving hover-taxi which could start transporting people starting July.

The Dubai Roads and Transportation Authority on Monday revealed it wants to work on passenger-carrying drones to help people move around the UAE's biggest city. The planned flights could begin in July, it added.

Dog fight: Start-ups take aim at errant drones

Dubai will be employing Chinese-made EHang 184, "an egg-shaped craft with four legs sticking out, each with two small propellers", for the drone service, according to Associated Press.

Passengers will be able to select a destination for the self-driving taxi on a touch screen after which it will take off automatically towards the chosen spot.


#Dubai to operate the first Autonomous Aerial Vehicle (AAV) capable of carrying a human this July #WorldGovSummit pic.twitter.com/GgHRRe8URK

— Dubai Media Office (@DXBMediaOffice) February 14, 2017


EHang 184 drone has a battery life of 30 minutes and will be able to cover 30 miles with some 220 pounds of weight onboard.

Digital Mapping: Drone technology to mark lands  

Ehang co-founder George Yan was quoted in 2016 as saying: "You know how it feels to sit in a Ferrari? This is 10 times better." He was speaking to the media in 2016 after the 184 was unveiled in Las Vegas.

"Everything is calculated in the backend to pick the most optimal route for you, so there is no collision with the other drones flying," Yan added. "On the drone itself we have built pretty sophisticated back up services so if another system fails then another will take over."

The plan is a reality as Dubai's authority seems very certain about launching it in July. "This is not only a model," Mattar al-Tayer, head of Dubai's Roads and Transportation Authority said. "We have actually experimented with this vehicle flying in Dubai's skies."

The Road and Transportation Agency issued a statement saying the drone had been examined by the Dubai Civil Aviation Authority and was controlled through 4G mobile internet.

The article originally appeared in USA Today.
COMMENTS (1)
Comments are moderated and generally will be posted if they are on-topic and not abusive.
For more information, please see our Comments FAQ