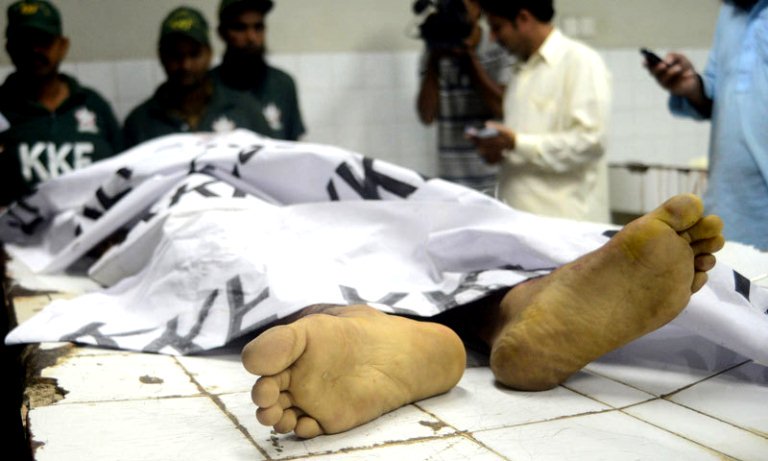 ---
SUKKUR: The body of a missing school teacher was retrieved from the Nara Canal near Arore on Sunday by the Sukkur police. The teacher was plunged into the canal, along with his car, on February 2.

The teacher, Mohammad Rafiq Tunio, went missing on February 2 from within the limits of the Site police station in Sukkur and his relatives, in their statement before the police, had accused some of Mohammad's friends of being involved in his disappearance. The police had arrested some suspects and investigated them but their efforts did not bear fruit as they could not find any clues about Mohammad's disappearance. The Site SHO kept investigating different suspects but failed to solve the case.

Mohammad's wife and cousin were called in for questioning and the interrogation paved way for the resolution of the case — the accused confessed that Mohammad was first tortured to death and then thrown into the Nara Canal in his car. The police then were able to locate the car and pull it out of the canal. Investigations are under way to deduce the actual reason behind the murder.

Sukkur SSP Amjad Ahmed Shaikh said that it was a 'blind case' for the police. The officer said that since Mohammad's disappearance, his relatives kept fabricating stories, probably to save the murderers. "Their concocted statements confused the police on one hand and heightened my suspicion on the other," he said. "Finally, we arrested Mohammad's cousin Hidayatullah Tunio and questioned his wife, besides tracing the signals of the tracker installed in the deceased's car," he explained.

"After a little grilling Hidayatullah started singing like a bird and provided all the information required by the police," he disclosed. This is how the blind case was solved, he said.

Published in The Express Tribune, February 14th, 2017.
COMMENTS
Comments are moderated and generally will be posted if they are on-topic and not abusive.
For more information, please see our Comments FAQ