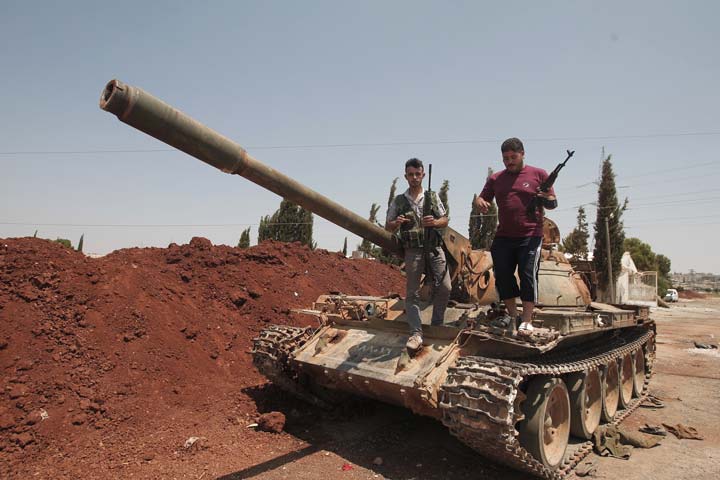 ---
BEIRUT: Syrian rebel militants on Monday seen as close to Islamic State battled a rival hard-line Islamist faction in north-western Syria in an escalating power struggle, a war monitor and an official with another insurgent group said.

Jund al-Aqsa and Tahrir al Sham clashed around Kafr Zeita in the countryside north of Hama, and near Tamaniaa, Khan Sheikhoun and Tal Aaas in southern Idlib Province, according to the Syrian Observatory for Human Rights that is a Britain-based war monitor.

An official with a rebel group that fights under the banner of the Free Syrian Army (FSA), which was not involved in the confrontations, confirmed the fighting.

Putin says Aleppo recapture 'very important' for Syria

The main conflict in Syria's civil war pits Syrian President Bashar al-Assad, backed by Russia, Iran and Shi'ite militias, against an array of rebel groups aiming to oust him, including some that have been backed by the US, Turkey and Gulf monarchies.

Since the army took Aleppo in December, some of the many armed groups in the north-west consolidated into factions that are now fighting each other for control of territory and resources.

Tahrir al-Sham was created in January this year when the Nusra Front and Jabhat Fateh al-Sham merged.

Furthermore, several other Islamist groups such as Jund al-Aqsa and Fateh al-Sham fell out late last year despite having previously aligned with each other.

Interestingly, insurgent sources and the observatory claim Jund al-Aqsa's ideology is closer to that of Islamic State group, al Qaeda's main jihadist rival.
COMMENTS
Comments are moderated and generally will be posted if they are on-topic and not abusive.
For more information, please see our Comments FAQ