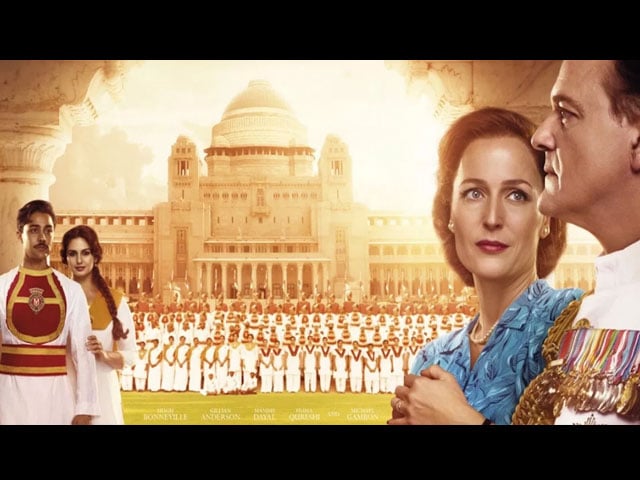 ---
Gurinder Chadha, the woman behind Bend It Like Beckham, demands British "accountability" for the humanitarian disaster triggered by the Indian Subcontinent's partition, in her new all-star drama, Viceroy's house.

It tells the story of Lord Mountbatten (Hugh Bonneville of Downton Abbey) overseeing the 1947 end of three centuries of colonial rule.

Can Pakistani cinema survive without Bollywood?

He and his wife (British-American actor Gillian Anderson) are portrayed as well-meaning if naive puppets of London at the start of the Cold War, as Mountbatten agrees to carve up the Subcontinent between Hindu-dominated India and Muslim Pakistan.

While global politics is being made upstairs, the Indian servants observe the goings-on with mounting horror, just as a love story buds between a Muslim member of staff (Huma Qureshi of Gangs of Wasseypur) and a Hindu valet (Manish Dayal of Marvel's Agents of S.H.I.E.L.D.).

In the film, the partition is seen as rushed, chaotic and eventually disastrous, fuelling sectarian violence and a refugee crisis that displaced an estimated 14 million people and left up to a million dead.

Viceroy's House begins with the tagline "History is written by the victors", often attributed to Winston Churchill.

Chadha, who made one of the most successful British movies of all time with 2002's Bend It Like Beckham, is a Punjabi Briton whose own family was displaced by the partition.

She said she aimed to challenge the received wisdom on it. "There was a far bigger game at play which was the geopolitics of the time, which are not too dissimilar to the geopolitics playing today in that part of the world," she said.

British, Indian media clash over Deepika's 'Bollywood blunder'at MTV Awards

"The film shows a series of blunders that led to the disaster as well as careful political maneuvering for bigger interests in the back."

Chadha indicates in the film that the British fomented religious hatred based on a "divide-and-rule" strategy and planned for the partition, even as World War II raged, to squeeze the Soviet Union out of a regional foothold.

Although she began working on the project seven years ago, long before Brexit or Donald Trump's run for US president, she said the film's themes of poisonous divisions and the destructive power of walls resonated more strongly now.

"Here we are releasing the film when the politics of hate and division are so prevalent and are defining not just America at the moment but... (also) Europe," she said.  "I feel this film is a timely reminder of what happens when you promote hate and division and start to criminalise a group of people. The end result is violence and death and history tells us that."

Mahira Khan becomes first Pakistani actress to join Bollywood's 100 Crore Club

Quereshi acknowledged that "the scars are still very deep" on the subcontinent, "so much so that even now, no policy, no decision can be made without a reference to the partition". Bonneville, best known as the Earl of Grantham from Downton Abbey, joked that it took his "extraordinary range" as an actor for him to play in another lush period piece with a familiar upstairs-downstairs dynamic.

He said the upbeat ending of the film, which features a reunion in a refugee camp based on a true story, appealed to him. "Despite this backdrop of seismic shifts, there are seeds of hope...even in these ghastly times that we're living in," he said. Viceroy's House is screening out of competition at the Berlin film festival, which runs until February 19.

Have something to add in the story? Share it in the comments below.