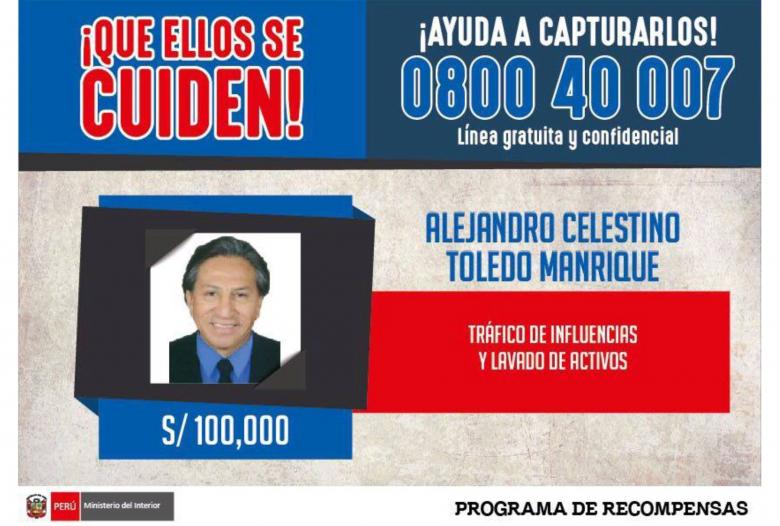 ---
Peruvian President Pedro Pablo Kuczynski said he asked US President Donald Trump in a phone call on Sunday to consider deporting the Andean country's fugitive ex-leader Alejandro Toledo, and thanked Israel for agreeing to deny him entry.

Kuczynski's government believes that Toledo, wanted in connection with a far-reaching graft probe, is in the United States but it said that efforts to capture him there have stalled on legal hurdles.

Toledo said on Twitter that he did not flee Peru but was not given the right to a fair trial in a ongoing inquiry into bribes distributed by Brazilian builder Odebrecht.

Haidri visa refusal tied to Obama, not Trump policy

Kuczynski did not describe Trump's response to his request in a statement or in a televised address he gave about the corruption probe that has ensnared Toledo, who governed Peru from 2001 to 2005 when Kuczynski was finance minister and prime minister.

The White House did not mention Toledo in a read-out of the conversation and did not immediately respond to a request for comment.

Late on Thursday, a Peruvian judge issued an international arrest warrant for Toledo after prosecutors accused him of taking $20 million in bribes from Odebrecht.

Pakistan plays down US commander's remarks

The downfall of Toledo, once a celebrated anti-graft and pro-democracy crusader in Peru, is part of the rapidly-growing fallout of the biggest region-wide corruption scandal to grip Latin America.

But the United States wants Peru to provide more evidence of probable cause before ordering Toledo's detention in the United States, Interior Minister Carlos Basombrio told Reuters.

The US Department of Justice has declined to comment.

The dispute threatens to strain tensions between the United States and Peru, a traditional US ally in South America and one of the world's biggest producers of cocaine.

Kuczynski said he also sent a letter to Israeli Prime Minister Benjamin Netanyahu to thank him for agreeing to prevent Toledo from entering Israel, which unlike the United States does not have an extradition treaty with Peru.

US visit called off after Senate deputy chairman denied visa

Israel, where Toledo's wife has citizenship, said earlier on Sunday that Toledo would only be allowed into Israel when he "settles his matters" in Peru after Lima warned that he had booked a Saturday night flight from San Francisco to Tel Aviv. Toledo did not board the flight.

Kuczynski, 78, spent years working on Wall Street and once held US citizenship, but his ardent support for free-trade and defense of migrants cuts a stark contrast to Trump's politics.

Shortly after Kuczynski narrowly beat a right-wing populist in Peru's June run-off election last year, he joked that he would cut off ties with the United States if Trump won the US election.

Kuczynski later congratulated Trump on his surprise victory but has also criticized the US leader's proposal to build a wall along the US border with Mexico to curb immigration.

Peru is one of several countries in Latin America that Trump has not mentioned much publicly as he focuses his foreign policy in the region on Mexico and Cuba.

Trump told Kuczynski he was concerned about developments in Venezuela, including the country's "humanitarian situation," the White House said, echoing similar worries voiced by Kuczynski in the past.
COMMENTS
Comments are moderated and generally will be posted if they are on-topic and not abusive.
For more information, please see our Comments FAQ