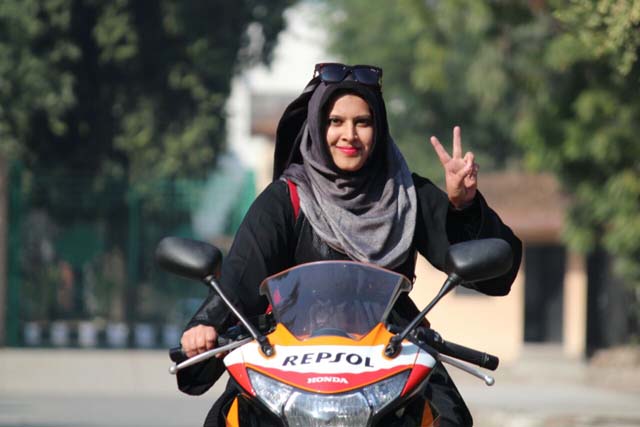 ---
A 22-year-old biker clad in a hijab is taking social media by storm as she vroom-s past gender norms.

Roshni Misbah, a student of Arab Islamic Culture at Jamia Millia Islamia University in New Delhi, rode her first bike when she was only in the ninth grade. Now, she's an inspiration for many young girls.

Clad in a hijab, a leather jacket and jeans, Misbah makes heads turn "more out of awe than anything else".




"I always knew I wanted to ride and own a motorcycle - but when? The question remained unanswered for years," Misbah said while speaking to The Express Tribune.

On Islamabad's bike lanes, residents pedal towards a greener city

Misbah shared that she took up a motorcycle riding so she could easily travel to her university. "I was just using my motorbike as a vehicle to travel to educate myself," she said. "People then started taking me as an inspiration."




She started off riding on friends' motorbikes before she got one of her own. Her first bike was a Bajaj Avenger Cruise 220 -- but only five months after owning it, Misbah knew she wanted a heavier bike and upgraded to a Royal Enfield 500 because she "loves its sound and feel." Her passion for sports bikes eventually grew, she also got a CBR Repsol.

Misbah inherited her love for bikes from her father, whom she said has been her biggest supporter. The 22-year-old stated that when she started riding for the first time, people would pass comments such as "She rides a bike! How will she get married?" to which her father would politely reply, "Let her do what she wants - we will find her a super-biker"

Useful information: Suggestions for motorcyclists

The conversation soon turned to those who criticise her. "Sadly, women are still are stereotyped to get married, have children, cook and stay back at home - even when we have women excelling in all fields today," she said.




Many critics have also questioned her religion, which is something she doesn't understand. Her passion for biking has not in any way interfered with her faith. "Hijab can never be a hurdle to anything. It is a part of my life, part of my culture and it is my choice to wear my hijab," she stated.

Her overnight stardom has come as a surprise, but the support, especially from women, has made her ecstatic. Misbah urges women to continue pursuing their dreams. "Follow your dreams! Follow your passion! And you can still follow your culture. Your faith. And everything else."

Scooty revolution: Women learn to ride bikes on Karachi's mean streets

Misbah, who has received the biggest support from her family, urged parents to support their daughters in what they want to achieve, because she believes the best support always comes from those closest to us.




"Educate them and let them follow their dreams. Education is the key! I am following it, and other women should follow it too - because we are the educators of the upcoming generation."