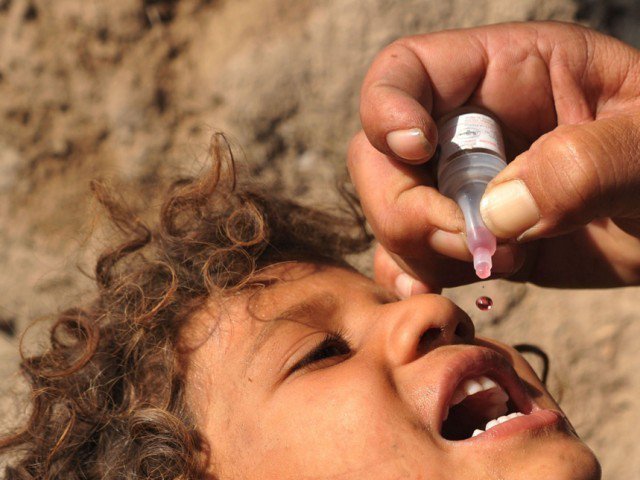 ---
PESHAWAR: To save children from being crippled by polio, the Peshawar city administration on Sunday decided to arrest over 500 parents who refused to have their children vaccinated against the debilitating disease.

The decision was taken in an official meeting attended by the Peshawar assistant commissioner (AC) and officials from other departments.

Speaking to The Express Tribune, Peshawar AC Altaf Ahmad Sheikh said it was the city administration's last option to arrest parents who refused to immunise their children against polio under the Maintenance of Public Order (MPO) Law. The city administration is carrying out a seven-day polio immunisation campaign which will end today (Monday).

"We have the target of immunising around 800,000 children across the city," Shiekh said, adding that refusal cases are around 5% of the total target. He said the administration has been trying their level best through clerics and local representatives to convince parents to immunise their children against polio. "Arrests would be the option of last resort," he said.

When asked why parents were refusing polio vaccination, the AC gave multiple reasons. "Some believe polio drops cause impotency," he said. "We even showed them edicts from eminent clerics to convince them polio drops would save their children from lifelong disability."

Some other parents, he said, were asking for money or other incentives, like pavement of streets, in exchange for immunising their children. "It is the responsibility of the government to take care of the health of children and save them from permanent disabilities," the AC concluded.

Drive in FATA

A three-day polio vaccination campaign begins in the Federally Administered Tribal Areas on Monday (today). The campaign will be followed by catch-up campaigns so that the missed children could be inoculated against the crippling virus. According to Emergency Operation Center (EOC) Fata Coordinator Dr Fida Mohammad Wazir, inoculation of children with both the Oral Polio Vaccine (OPV) as well as Inactivated Polio Vaccine (IPV) will prove a crucial step in blocking transmission of polio virus.

A total of 512,230 children below the age of five years will be administered OPV in North Waziristan, South Waziristan, Khyber, Frontier Region Tank, Lakki, Dera Ismail Khan and Bannu by some 1,911 teams, comprising 1,740 mobile, 118 fixed and 53 transit teams.

Some 168,004 children between the ages of four to 23 months will be administered IPV in the Bajaur, Mohmand, Orakzai, Kurram agencies besides FR Peshawar and Kohat by 853 fixed and mobile teams including 1,648 skilled vaccinators who have recently been trained to administer OPV and IPV to children.

Security will be ensured under the supervision of political agents, commissioners and armed forces. Not even a single poliovirus cases has been reported from the tribal areas in 2017. Only two cases were reported in 2016.

Published in The Express Tribune, February 13th, 2017.