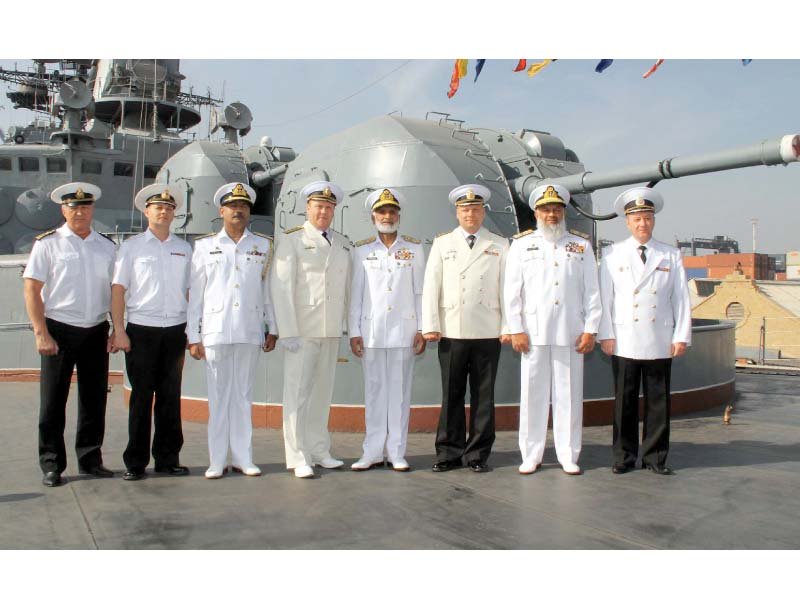 ---
KARACHI: There is a need to deal with environmental hazards and to enhance regional collaboration among countries in the Indian Ocean for better coast management and ocean governance, urged the participants of the International Maritime Conference.

During the second day of the 7th international conference issues of sustainable fisheries, trade opportunities in the Indian Ocean Trade were discussed.

The 7th International Maritime Conference, organized by the Navy, is being held in tandem with the Naval Exercise 'AMAN 2017'.

AMAN-17 naval exercise begins in the Arabian Sea

Rear Admiral (retd) Pervaiz Asghar expressed his thoughts on 'Emerging Opportunities in the Indian Ocean Trade Regime'. In his address Asghar said, "There is immense opportunity in the region and we have to tap it."

Dr Wang Dakui from China emphasised on developing a cooperative mechanism for the Indian Ocean region to deal with the environmental hazards and early warning risk assessment.

Meanwhile, Dr Steen Christensen, from International Union for Conservation of Nature (IUCN), shed light on regional collaboration amongst countries in the Indian Ocean for better coastal management and ocean governance.

Aman-17

The Naval chief Admiral Muhammad Zakaullah on Sunday visited the ships of foreign navies participating in the Multinational Naval Exercise AMAN-17.

During his visit the Naval chief was welcomed by senior officers, task group commanders and commanding officers of the ships and was presented with a guard of honour.

The Naval Chief visited participating ships of Australia, China, Indonesia, Russia, Sri Lanka, Turkey and the United Kingdom.

During his discussions with the officers onboard, the Naval Chief highlighted that Pakistan Navy has always been a forerunner in the quest for collaborative security in the region.

The admiral further expressed that the camaraderie generated in the exercise will grow in future and shall bring the participating Navies closer to the mutual goal of regional peace and prosperity. He also appreciated and thanked them for their participation in the exercise to fulfill common resolve of 'Together for Peace'.

Over 35 countries to participate in AMAN-17 Naval exercise

The senior officers of the foreign ships acknowledged the efforts of Pakistan Navy to bring global navies together for the shared commitment of maritime peace, stability and lawful order at sea.  During his visit, the Naval chief also recorded his remarks in guest books of the visiting ships.

Published in The Express Tribune, February 13th, 2017.