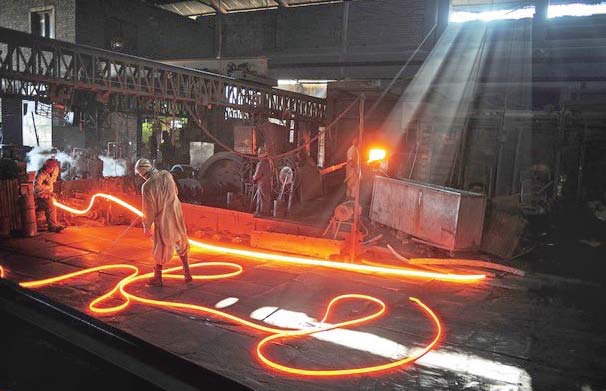 ---
KARACHI: Pakistan's decision to slap up to 40% anti-dumping duty on Chinese steel is a massive development for two reasons – it paves way for growth of the local industry and, more importantly, signals the country's intention that it will protect the interests of its own even if over $55 billion are coming from the same geographic location.

The duty, imposed by the National Tariff Commission (NTC) last week, will be in effect for five years from the date the body commenced its investigations into the local industry's claims that the import of Chinese steel is causing it material injury. The investigation began in August 2015.

Pakistan Steel Mills shows why state sell-offs are stalled

Chinese supply glut

China has a massive supply of steel and this has turned into an international trade complexity. Steel producers all over the world often accuse China of dumping cheaper steel in their markets. They say Chinese enjoy government subsidies, allowing them to produce the commodity cheaper, rendering other players uncompetitive.

The country has an installed capacity of producing over 800 million tons of steel a year and is, by far, the largest steel producer in the world. Its nearest competitor Japan produces a little over 100 million tons of steel a year. No wonder other smaller players feel threatened.

The US, India and many other countries have imposed anti-dumping duties on different Chinese steel products in 2016 to protect their domestic industries.

But coming back to Pakistan.

Industrial production remained 6.8% in fiscal year 2015-16, which was the highest in the previous four years. It contributes about 24% to Pakistan's Gross Domestic Product (GDP), but its growth has remained subdued in the last decade mainly due to energy shortages, smuggling and security issues.

With a GDP growth target of 7%, which is enough to cater to increasing supply of labour, it needs all its sectors to perform.




The CPEC interest

But with the China-Pakistan Economic Corridor (CPEC), stakeholders, as well as the public, believe that it would be China who will come out as the winner. Pakistan may add 10,000MW, but its GDP growth would remain hindered if the energy doesn't translate to industrial growth.

With China looking to promote its own industries, shoving Pakistani player out of competition, it will only be a matter of time before local players are driven out of business.

Pakistan Steel Mills: Not just staff but CEO and managers also getting free electricity

The threat may not be as profound for cement players as it is for steel companies. The two commodities are the drivers of CPEC.

While Pakistan's cement players have been adding to their capacity, steel players had been left behind as Chinese imports continued to outweigh any investment plans local players had.

But it seems this situation is also going to change. Steel industry officials say the anti-dumping duty could help increase industrialisation because it will protect the "legitimate interests" of domestic companies.

"The NTC is taking timely decisions, which is a positive for the local industry as well as investors. Its decision to slap anti-dumping duty on Chinese Galvanised Steel products for five years will be a turning point for the local industry," a top official of the steel industry commented on condition of anonymity.

The duty has been imposed on galvanised steel products, a commodity used in making automobile parts, construction materials and appliances.

Some industry officials believe the five-year anti-dumping duty could be extended to 10 years, an ideal scenario that would allow the nascent industry to grow enough in size to compete against imports.

"Our steel industry has just got a chance to grow in fair competition for a long period. Cheap Chinese imports rendered our local producers uncompetitive, a scenario which will soon change," another official of a steel company commented.

Steel production in Pakistan

Pakistan produces is less than 4.5 million tons a year, meeting 64% of the country's total demand of about 7 million. In recent years, a huge demand and supply gap and record-low international prices have created an extraordinary demand for Chinese steel imports in the local market.

Earlier, in January last year, the NTC had also imposed anti-dumping duties in the range of 8.31% to 19% on imports of cold-rolled coils and sheets from exporters based in China and Ukraine. The duties were imposed for four months.

The import of both steel scrap and steel products increased by 35.6% and 30.1%, respectively, in fiscal year 2015-16, despite the imposition of anti-dumping duties on import of cold-rolled coils and sheets from China and Ukraine, according to the State Bank of Pakistan (SBP) in its annual report for fiscal year 2015-16.

Pakistan Steel Mills directed to sell inventory to settle debt

The central bank noted that the unprecedented decline in international steel prices, coupled with the influx of cheap Chinese steel under the free trade agreement (FTA), squeezed the profit margins of domestic firms.

Currently, internationally steel is being traded at $312.5 per ton. Historically, steel reached an all-time high of $1,265 in June of 2008 and a record low of $90 in March 2016, according to TradingEconomics.com, a New York City-based website that tracks world commodities.

So how long before Pakistan needs to wait before investments pour in from local players?

International Steels Limited (ISL), one of the largest steel producers in Pakistan, this month announced that it intends to increase its cold-rolling capacity by another 400,000 tons, which will take the overall capacity to 1 million tons per annum (tpa).

The new expansion will allow the company to meet most of the domestic demand for cold-rolled and galvanised coils. The company's confidence in the local market is growing which is evident from its continuous expansions.

In March 2016, ISL doubled its cold-rolling capacity to 500,000 tpa, which was further enhanced to 600,000 tpa in October 2016 after minor debottlenecking at existing rolling lines.

Pakistan's steel producers in the formal sector estimate the country loses up to $300 million every year due to smuggling and import duty theft. This is the prime reason why not many companies enter into formal steel production.

The writer is a staff correspondent

Published in The Express Tribune, February 13th, 2017.

Like Business on Facebook, follow @TribuneBiz on Twitter to stay informed and join in the conversation.
COMMENTS (2)
Comments are moderated and generally will be posted if they are on-topic and not abusive.
For more information, please see our Comments FAQ