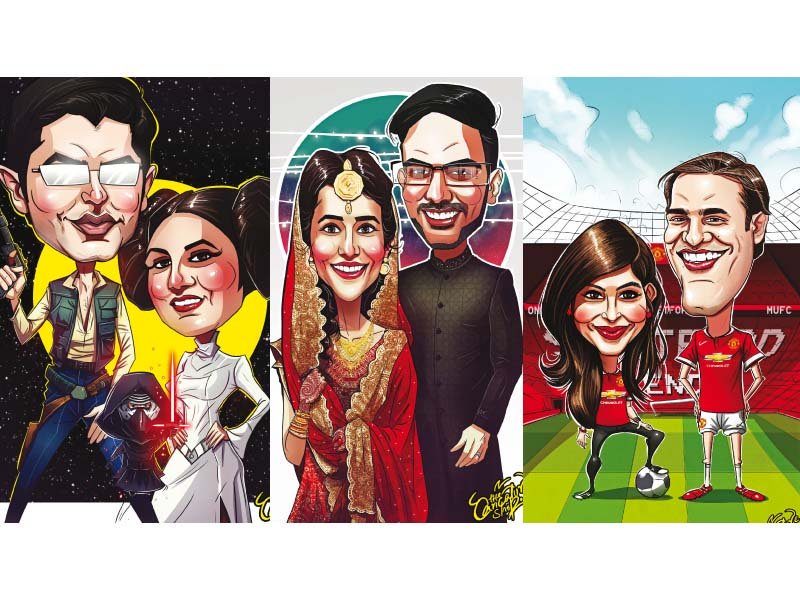 ---
KARACHI: Where most artists struggle to make money, there is Ramish Safa who shows you exactly how it is done.

He started doodling when he was two but it was not until he turned 22 that he figured out how to make a career of his passion. Safa graduated from the Institute of Business Administration with a business degree that helped him develop the art of selling. And now at a young age of 27, Safa is the proud owner of The CariCature Shop.

Art of conversation: Artist finds self through East-West fusion

"It's a purely, purely commercial venture," he tells The Express Tribune. "People come with zero expectations but when I draw their exaggerated versions, they are way too satisfied."

Safa admits that being an artist can be a tricky business in Pakistan. "People think art can't be sold in Pakistan," he claims. "But they must know that it can be sold as a commodity and when they will know it, they won't stop."




Three years and counting

The CariCature business started around three years ago and Safa shares why he thinks it does so well. "Photos are not that memorable," he says. "People click as many as 1,100 photos to capture a single moment and I believe that moment loses its exclusivity."

As for caricatures, they are an exaggerated cartoon of you. "What you actually imagine takes over my thinking," he explains, adding that he lets his clients guide him as they prefer. "There is an assortment of caricatures that I have drawn, from astronauts and super heroes to chefs, fighter-pilots and footballers. In these assortments, whatever you want, happens."

Nevertheless, a tinge of narcissism is necessary for a good caricature, says Safa. "It will boost your imagination and allow me to draw wildly. It's opened up a Pandora's Box for everyone! The bridal couple does not want to play safe [anymore].".

The journey of Karachi's art scene

Safa's business caters for weddings as well. People specify that they do not want a portrait but mostly go for specific caricatures. Nearly 80% of his customers are women, he adds. "They really enjoy this art form and love to present it to their friends and life partners," he says.

Competition is fierce

"For an art cartoonist, drawing a caricature is easy," admits Safa. "A couple of artists are involved in doing caricatures now. But for one to stay ahead of their game and push that boundary, I insist one needs to take a major leap in terms of understanding the art form completely."

Safa has also managed to create a niche for his caricatures as unique gifts. "After perfumes, tie-pin, chocolate box, these are the next big thing. People enjoy caricatures every time they place an order for a loved one or for themselves."

And he seems to be offering a good deal by charging Rs3,000 per head.

For budding cartoonists, Safa also offers classes on the art of making caricatures via an online portal, School of Skills, and even gives personal tuitions to a few people. So far, 130 students have studied under him in the last two years.

Published in The Express Tribune, February 13th, 2017.
COMMENTS
Comments are moderated and generally will be posted if they are on-topic and not abusive.
For more information, please see our Comments FAQ