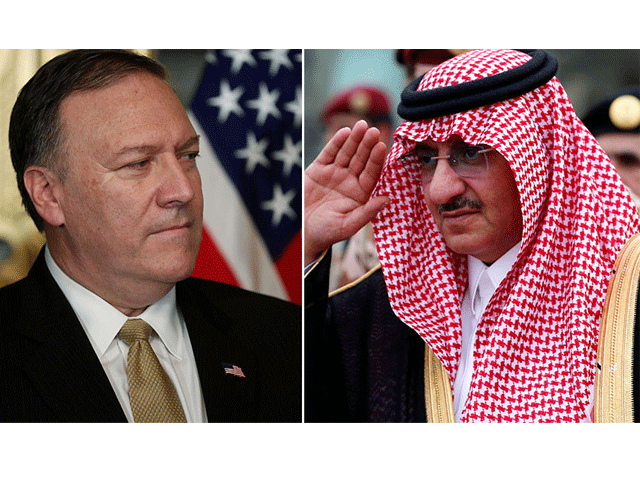 ---
RIYADH: The heir to Saudi Arabia's throne has been awarded a medal by the new director of the US Central Intelligence Agency, who honoured his counter-terrorism work.

Mike Pompeo, making his first overseas tour since being confirmed as spy agency chief in late January, made the presentation to Crown Prince Mohammed bin Nayef at a weekend ceremony, the official Saudi Press Agency (SPA) said.

Prince Mohammed, 57, has been interior minister since 2012 and has years of experience in intelligence work.

Saudi Arabia unveils next-generation F-15 warplane

Widely respected in the West for his efforts to combat violent extremism, he oversaw a crackdown on al Qaeda which killed security officers and foreigners in the kingdom between 2003 and 2007.

In 2009 Prince Mohammed survived with only light injuries an assassination attempt by al Qaeda.

Pompeo awarded him the George Tenet Medal in recognition of his "excellent intelligence performance, in the domain of counter-terrorism and his unbound contribution to realise world security and peace."

George Tenet was the CIA's longest-serving director, from 1996 to 2004.

Yemen campaign: US cancels weapons transfers to Saudi Arabia   

Pompeo and Prince Mohammed also held talks on security issues, SPA said.

The prince told SPA that "no attempt will succeed in driving a wedge between the Kingdom of Saudi Arabia and the US".

It was the latest Saudi reaffirmation of ties between the absolute Islamic monarchy and Washington since President Donald Trump took office on January 20.

The United States and Saudi Arabia have a decades-old relationship founded on the exchange of American security for Saudi oil.

But ties between Riyadh and Washington became increasingly frayed during the eight-year administration of former president Barack Obama.

Saudi Arabia's Sunni leaders felt Obama was reluctant to get involved in the civil war in Syria and was tilting towards its Shia-dominated rival Iran.

Pompeo is a strident critic of an international deal reached in 2015 to lift sanctions on Iran in exchange for guarantees that it will not pursue a nuclear weapons capability.

In interviews and written pieces, Pompeo has pointed to Iran as the primary source of conflict in the Middle East since Tehran's 1979 revolution – views which coincide with those of Riyadh.

Pompeo had been in Turkey late last week for talks with officials there.
COMMENTS (1)
Comments are moderated and generally will be posted if they are on-topic and not abusive.
For more information, please see our Comments FAQ