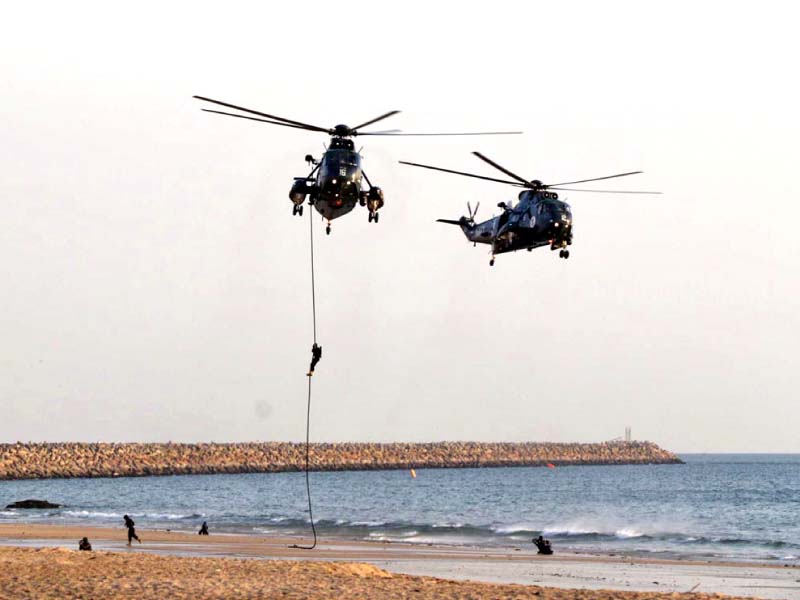 ---
KARACHI: Maritime security challenges in the Indian Ocean have grown and are affected by 'key variables' such as militarisation, involvement of major and extra-regional powers, and non-traditional security threats due to the presence of several conflict zones in the region, the prime minister's top foreign policy aide said on Saturday.

"The militarisation of the Indian Ocean region, proliferation of weapons of mass destruction, increased missile capabilities and power projections by foreign militaries are a threat to peace in the Indian Ocean region. And this trend is likely to intensify in the coming years," said Sartaj Aziz.

"And to add to this complex scenario, today, the Indian Ocean faces many non-traditional security challenges and threats, including piracy, illegal fishing, human trafficking, drug smuggling, trafficking of weapons, maritime pollution and climate change."

India building 'secret nuclear city'

Pakistan formally kicked off the fourth Aman-17 exercise at the Pakistan Navy Dockyard on Friday. Thirty-six countries are participating in the exercise – nine of them are participating with their assets, including ships, aircraft, and special operating forces with Russia participating for the first time.

The nuclearisation of the Indian Ocean has also led to further instability in the region, Aziz said. As the flagship of one belt one road, the China-Pakistan Economic Corridor (CPEC) will gain importance over time, he said.

Aziz said Pakistan was the third largest Indian Ocean littoral country and as a matter of policy it continued to pursue the goals of realising the economic potential of the region.  "At the same time, we are aware of our national interests and every effort would be made to strengthen our capacity to ensure that we remain ready to meet the emerging maritime security challenges," he said, stressing that to remain oblivious of the developments taking place in the Indian Ocean Region was not an option.

"These developments have a direct impact on our security and prosperity. We have to maintain significant naval presence to keep our sea lanes open and defend our interests whether on land or on the sea."




Addressing participants from 36 countries attending the multinational exercise in Karachi, Aziz highlighted the presence of regional players in the Indian Ocean, interests of regional and extra-regional coalition powers and complexity of challenges it has posed. Trade could only flourish in the region if sea routes in the Indian Ocean were made secure.

He underscored the importance of regular dialogue between stakeholders on security and safety. Pakistan, he said, has already been playing an important role in maritime security of the area.

The Indian Ocean region, he said, was important both economically and politically.

"We are part of the Coalition Maritime Campaign Plan and Pakistan was the first country to join Task Force-150 aimed at eradicating terrorism and human, arms and drug trafficking alongside other nations," he said.

"Marine environment is also an essential component of global life support system and investing in marine eco-systems can help us improve ocean management," Aziz stressed. He also assured unstinted support of the government for the development of the maritime sector.

The National Centre for Maritime Policy Research (NCMPR) invited eminent scholars from Australia, Brazil, Canada, China, Malaysia, Sri Lanka, Thailand, the UK, and the US to deliberate on the topic "Strategic Outlook in The Indian Ocean Region 2030 and Beyond - Evolving Challenges and Strategies".

Chief of the Naval Staff Admiral Muhammad Zakaullah earlier, in his opening remarks, welcomed all guests and participants and highlighted the significant role being played by Pakistan Navy in sustenance of peace and stability in the Indian Ocean region.

Kashmir issue

Sartaj Aziz, speaking earlier in the day, said India was trying to single out Pakistan in international community.

"Its attitude is aggressive towards Pakistan," he said adding that it was India not, Pakistan which restored indiscriminate firing along the Line of Control.  "We just responded in the same tune," he said.

He reiterated that India was trying to single out Pakistan in the international community and distract attention from Kashmir by levelling serious allegations. "The movement in Kashmir is indigenous and Pakistan will take up their issue at various forums including the United Nations."

In response to a question regarding the arrest of Hafiz Saeed, he said the Jamaatud Dawa chief had been arrested under the National Action Plan by the interior ministry.

He accused India of interfering in Pakistan's internal issues adding that Kulbhushan Yadav's arrest was a proof of it.

Talking about Trump's travel ban, he said the State Department had already clarified that it does extend to Pakistan.

Partition was not just due to religion: Ayesha Jalal

Pakistan will be following and taking forward Jinnah's legacy for maintaining international relations with every state in the world.  "If you see, the world dynamics changes in about 20 years, from after WWI, in 1920; that has been the pattern of development. Not everybody might anticipate, but foreign policy makers need to analyze it."

"We are currently living in a multipolar world, but essentially there are countries looking towards, 'inward policy', from Brexit, to Trump coming to power in the USA, we see long term developments, which might not be easy."

He said that with the West closing down itself to refugees, East plans to open itself up likewise China in these emerging times.

Published in The Express Tribune, February 12th, 2017.
COMMENTS (5)
Comments are moderated and generally will be posted if they are on-topic and not abusive.
For more information, please see our Comments FAQ