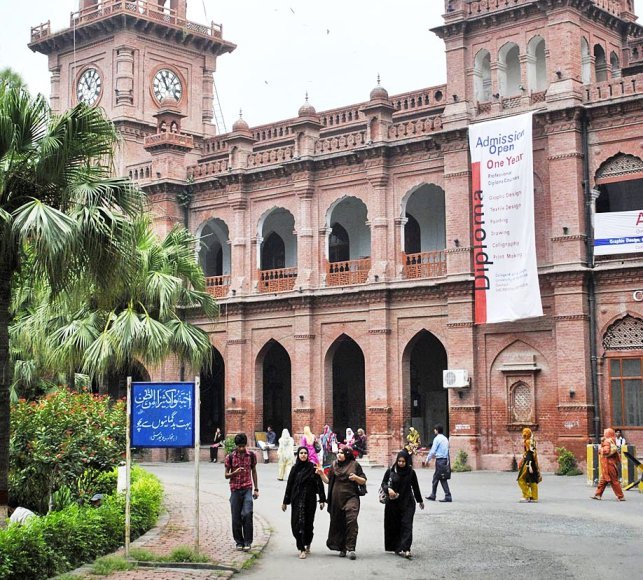 ---
LAHORE: Several protests were staged on Saturday against violence on the Punjab University campus with students from both sides blaming each other for the clash.

Several students were injured and at least three were hospitalised a day earlier after members of the right-wing Islami Jamiat-e-Talaba (IJT) thrashed activists of Pakhtun Education Development Movement (PEDM).

On Saturday, PEDM members staged a protest inside PU's Hostel Number 4, demanding protection from the IJT 'goons'. They alleged the varsity administration was protecting the IJT activists and no action had been taken against hooliganism.

Two similar protests were also held outside the Lahore Press Club (LPC).

The first one was organised jointly by the Baloch councils of different universities in Punjab, PEDM and the Progressive Youth Alliance. The protesters demanded security and a peaceful environment for continuing their studies at the university. They also called for action against the attackers of students a day earlier.

Jasim Baloch, a Punjab University student, believed the state and university were responsible for providing security to students. "The IJT has been targeting our students while the administration has been a quiet spectator in the whole affair," he alleged. "We are here to get education and demand security from the university and the Punjab government."

Another student Dawood Khan said the IJT had illegally occupied Hostel Number 1 and around 100 members of the student body were living there.

"They are accusing us of raising anti-state slogans, which is a newfound way to intimidate students from Balochistan," he said. "Their propaganda is dangerous as it is not only discriminatory but also spreading hatred."

Meanwhile, the IJT itself organised a protest outside the LPC as well, claiming the clash at PU on Friday was a 'conspiracy against the university'.

The right-wing student leaders called for eliminating 'anti-student elements' from the campus, claiming those involved in the violence were 'outsiders'.

Changing its earlier stance, the IJT blamed the students from Balochistan and Khyber-Pakhtunkhwa (K-P) for the violence. Blaming the former vice-chancellor for the trouble, the student union demanded that Dr Mujahid Kamran, now residing in the VC House, should be asked to vacate it.

When contacted, Dr Mujahid said that calling students from Balochistan 'touts' was an insult to the entire community and the students, who had travelled far from their homes for education.

He said the IJT had used force and violence in the past and was now doing the same. He added he was not a part of the administration anymore and should not be named in such controversies.

Meanwhile, PEDM students remain holed up within the PU's Hostel Number 4 with many other students from other hostels also stuck there.

"We are staying here for our safety as the IJT has been grouping up at other hostels of the university. We did this out of safety concerns," said Jaffar Khan, another student from Balochistan.

Published in The Express Tribune, February 12th, 2017.