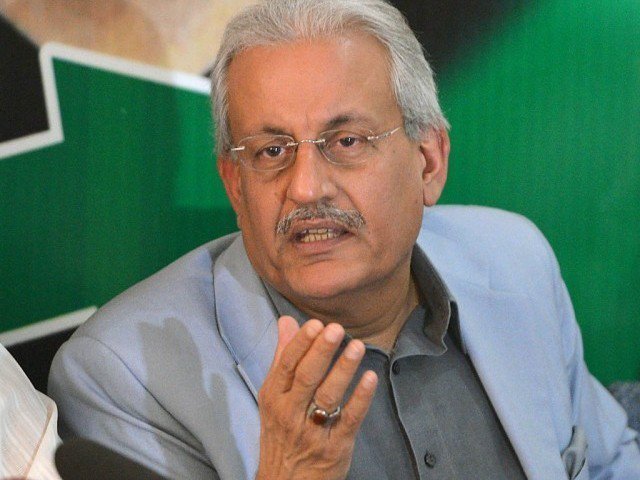 ---
KARACHI: The second day of the Karachi Literature Festival (KLF) kicked off with a charged conversation on Pakistan's resilience as a nation.

Senate Chairman Mian Raza Rabbani began the talk in Urdu, stating that resilience is seen through Pakistan's people, its professionals and its middle class. He went on to say that Pakistan has turned into a garrison state.

Journalist Ahmed Rashid continued the conversation and claimed that Pakistan has two failings: one is the post-Peshawar attacks and the National Action Plan that is not being followed, and the second is the previous two army chiefs suggesting that Pakistan's problems are not internal. "We have not been able to build a true narrative against extremism," he said. He however said that the narrative for change is shared by the military, the society and the political parties.

Lawyer Hamid Khan retorted that Pakistan does not want to face the truth and that is its greatest weakness.

Rabbani questioned, "Is the state ready to finish the war on terror or does the distance between the state and the people have a duality on the policy?"

On combating the enemy within, Rabbani stated that it is a question of clarity and the academia, civil society and intelligentsia of Pakistan have that clarity. When it comes to the state, he said it still wants to 'play hide and seek with the good and bad Taliban'.

Justice Nasira Iqbal stated that if the judges make just one move toward change, the whole civil society will follow.

Rashid claimed that the state has not learnt its lessons and it now has greater control over foreign policy. However, he said that we are on the 'wrong track and cannot rely on China forever'. He explained that Pakistan does not have a single friend in the entire region and that the country's foreign policy is not moving.




Khan spoke about the predicament of having an invisible state within Pakistan for the past eight years and that nothing can change until the said state is recognised.

In response, Rashid said that this invisible state has existed since 1947 and it will go on to exist as long as there is no transparency in the country and its politics. "Our counter-extremism narrative is not working, the civil society and political parties are on one platform and the majority believe in the narrative expressed by the National Action Plan."

He went on to explain that the real solution lies in tackling the country's problems internally and not blaming India and Afghanistan for everything. Furthermore, he elaborated that to garner change, each and every level of the government must interact and bring about an overlapping of interests.  The session came to a close with an audience member asking what Pakistanis have in common, to which Rabbani responded by saying, "Unity through diversity."

Published in The Express Tribune, February 12th, 2017.