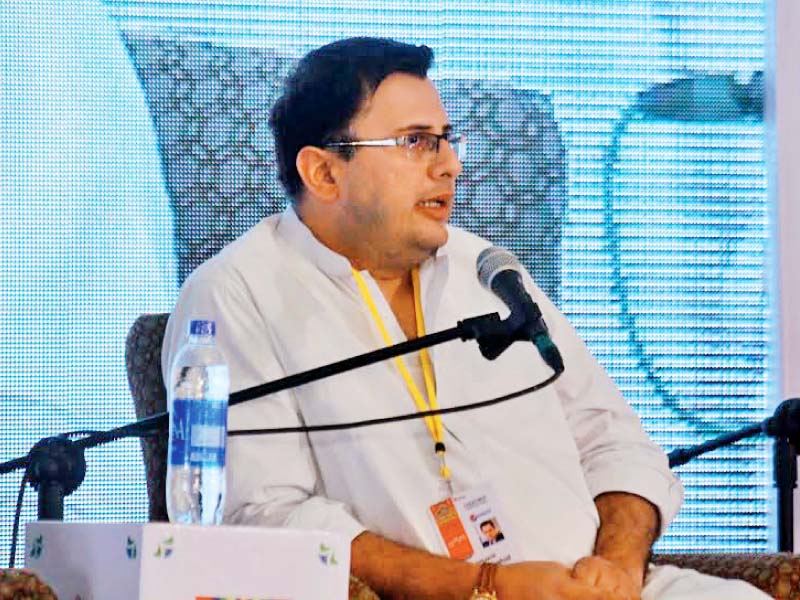 ---
KARACHI: Karachi always remains in your blood. No matter where you are geographically, you remain attached to the city.

Author Omar Shahid Hamid said this at the launch of his third book, The Party Worker, on the second day of the eighth Karachi Literature Festival (KLF) on Saturday. The session was moderated by Bilal Tanweer, the author of the novel, The Scatter Here Is Too Great, and was co-chaired by Preeti Shenoy, a best-selling female writer in India.

With his experience working as a senior counter-terrorism officer in the Karachi police and in Pakistan's Intelligence Bureau for 14 years, he said he tried to capture the reality of the metropolis as he witnessed.

"If the readers can empathise with the characters, I believe I have done my job."

Hamid said that none of the characters in his books were literal or could be related to real life personalities. However, Tanweer had a different opinion. He said one can easily guess who Hamid was referring to in his books.




Hamid saw himself evolving as a writer over the years and said that his perception had developed over time, which has also translated into his opinion of the police. He said he did not define himself as a writer but was more of a police officer. For him, writing gradually became an addiction — the only problem he faces is to find the time to write.

Like his previous books, The Party Worker captures the core essence of the cosmopolitan, which most of the people can relate to.

In response to a question by the moderator as to what questions Hamid answers when he is writing, the author said that he tries to give a realistic portrait — some of which is negative, the other positive. "The greatest service you can do is to give a realistic portrait," he said, adding that if he portrayed the police and militants positively, no one would buy his books.

Speaking about his works, Hamid revealed that his fourth book will be based on match-fixing. Cricket, he said, was far more than just a sport. "It's a morality play."

In response to a question, he said the challenge for him now was to write something different in the future. To write from the perspective of the opposite gender is another challenge he aims to overcome.

This was Shenoy's first trip to Karachi, and having read Hamid's book she was excited to be here and found it to be exactly like India. Based in Bangalore, she said all the cities she has been have taught her something that could be reflected in her writings.

"I learnt over six languages, which helped me connect with the people in all the cities," she said.

Published in The Express Tribune, February 12th, 2017.