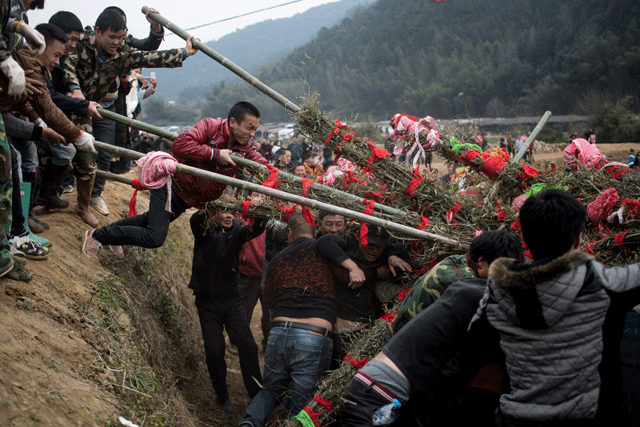 ---
LONGYANG, CHINA: Beating a rock statue of Buddha to wish for a good new year and an abundant harvest, villagers in China's eastern Fujian province have a unique way of worshipping the deity.

The religious ceremony held Friday in Yuxi village is one of many in the run-up to the traditional Lantern Festival, which falls on February 11 this year.

It is a time for colourful ceremonies in the coastal province, where the Hakka people have maintained folk traditions.




Legends about the statue vary, but all agree that the stone represents a local god capable of defending the village against both drought and flood.

In preparation for the event, villagers wrapped the centuries-old Buddha - technically nothing more than a rock - in red cloth and rinsed it with water, before tightly tying it to a wooden palanquin.

Four men who had been on a strictly vegetarian diet for three days attempted to carry it across a nearby river, while another team of more than a dozen tried to stop them by blocking them with freshly hewn bamboo sticks.




Liao Qinhai, who was on the defence side, said he travelled from his home in the eastern city of Xiamen to Yuxi, where he grew up, with his 11-year-old daughter specifically for the event.

"We want to wish for a good harvest for our village and I want to show my kid the culture that I grew up with.

"Lots of us do business in other places and it's a good chance to bond with my people."

The mock struggle lasted for hours until the defenders finally relented and welcomed the rock Buddha into the village.

According to one of the most popular legends, the village suffered flooding for many years during the Ming Dynasty, which ruled China from 1368 to 1644, and harvests were frequently ruined.

At the time, one of the villagers had a dream that a rock hidden in the fields could stop the flooding. They just needed to find it and build a temple to house it near the river.

But the rock-turned-Buddha likes to run away, the legend says, and people believe beating it can make it stay.