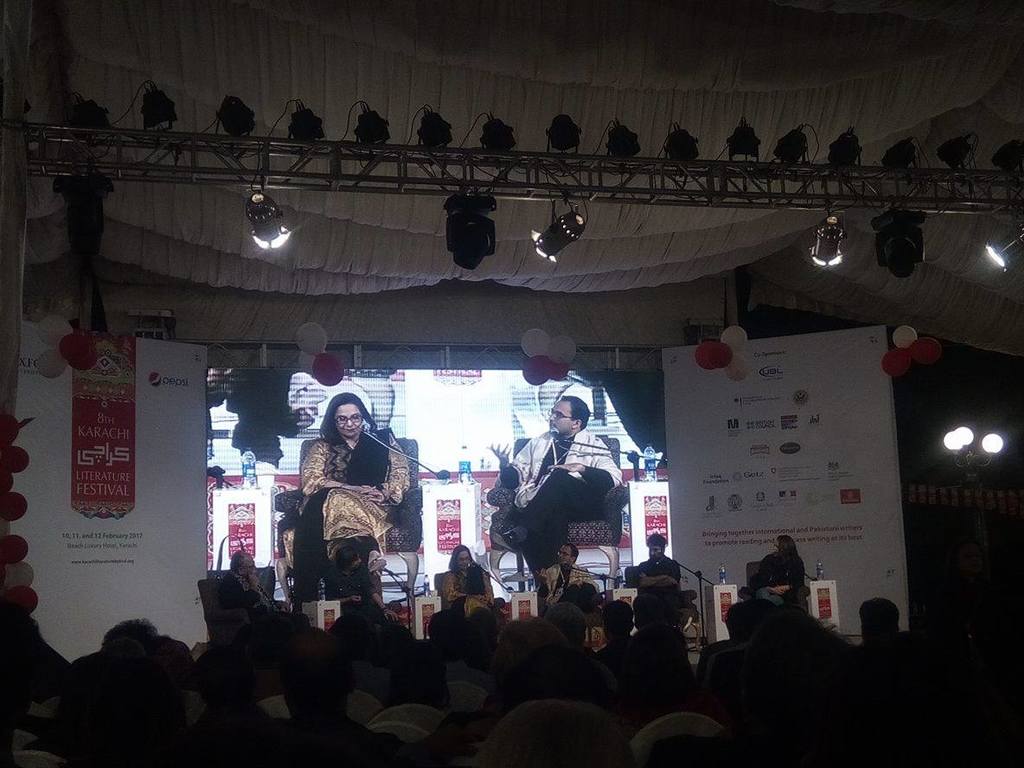 ---
KARACHI: With book fairs, art exhibitions, panel discussions and performances, the ongoing Karachi Literature Festival has something for everybody. For us music fans, a session titled Pakistani Music: From Raagas to Rock was held on Friday night.

The panelists included veteran singer Tina Sani, The Sketches front man Saif Samejo, Zoe Viccaji, Taimur Rahman of Laal fame and tabla player Yousuf Kerai. Moderated by National Academy of Performing Arts director for programs and administration, Arshad Mehmood, the panelists discussed evolution of Pakistani music .

City gears up for eighth Karachi Literature Festival

Rahman began on a funny note, saying, "If you play three chords in front of three thousand people, it is rock music. And if you play three thousand chords in front of three people, it's a raag." He gave a presentation on the history of Pakistani music, starting from the music as a rebellion in the 1980s. "It was a difficult time for music because of a particular leader," he said, showing a picture of dictator Ziaul Haq. "The music was not rebellious in content, but form."

Agreeing with Rahman, Sani said that Faiz Ahmed Faiz's poetry was banned on Radio Pakistan. Mehmood weighed in on the topic, adding, "I composed Faiz as a rebellion. I even remember saying to Tina, when we were doing Bahar Aayi that we could be jailed for this. And she said, "It's okay, I like the composition so let's do it."

The panelists said that back in the 80's, pro-Islam nationalistic sensibilities were so strong that even raagas with Hindu names such as Raag Durga, which is named after a Hindu deity, were not preferred. "We weren't even allowed to say Durga," said Kerai.

They discussed how music evolved from raag renditions to rock music and how, in contemporary music, the fusion of the two is becoming more popular. "Salman Ahmed's early track Heer was the first time we had heard a raag on guitar. Later on, Rohail Hayat marked the full evolution with Coke Studio. The whole basis of that platform comes from the fusion of raag and rock," said Rahman. However, he added that now it has turned into 'McDonaldisation' of raga rock. "It still sells and is the most popular kind of music today. But I wonder if it has creatively peaked and where do we go from here."

Karachi literature festival opens: Preface to KLF begins with Socialite Evening

Kerai brought up the idea of people preferring a song over an instrumental. "Music is a communication. Nowadays, you can only listen to tabla or a flute in the background of a song, which is dominated by lyrics. I want to listen to more solos because music has its own rules, ideas and a theme. When you play a solo, whether it's on guitar, tabla or any instrument, you bring forward a singular idea and people focus on it," he stated.

Samejo suggested understanding music in the context of the audience. "The life in urban areas is quite different from that in rural areas. Here, people are always in a race so they need words to focus on, whereas in villages, it's quite different. You will see musicians playing instrumentals and people would listen and focus. When you play Bhitai's raag Sur Sasui, you can listen to the entire story when I just say the name or play the music. You can feel the same emotion without any words."

Have something to add to the story? Share it in the comments below.
COMMENTS
Comments are moderated and generally will be posted if they are on-topic and not abusive.
For more information, please see our Comments FAQ