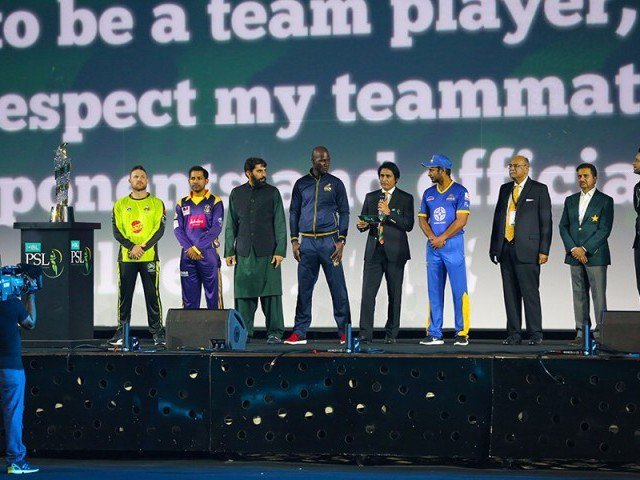 ---
KARACHI: Pakistan Super League (PSL) 2017 kicked off with a bang in an elaborate ceremony held on February 9 in the UAE. The event was truly one majestic spectacle for the crowd of thousands who had come to witness it and take pride in this overwhelming sense of being Pakistani.

Haddin's stunning 73 helps Islamabad beat Peshawar in PSL2 opener

Held at the Dubai Sports City Stadium, the PSL opening ceremony put on a brilliant show, which proved Pakistan can definitely give other countries a run for their money, be it cricket, dance or music.




Here are five moments that made the night one to remember:

The light show

After the Pakistani national anthem, the ceremony began with a spectacular light show which saw drummers suspended from the top, getting the audience hyped up for what was to come. As the glow filled the stadium and the crowd moved to the rhythm of the drums, it was clear that the light show was a catalyst to enhance hype, even though they hardly needed it.

Fahad Mustafa

Every crowd eats up whatever Fahad Mustafa says or does. Therefore, he was the perfect choice to host the ceremony. Fahad didn't waste time; he kept things to the point in evoking a sense of nationalism in the crowd. He talked about PSL not belonging to any one part of Pakistan, but rather all of it. "This league belongs to the whole of Pakistan," he said, garnering massive applause and cheers from the audience.

PSL2 begins with majestic opening ceremony in Dubai

Dance and tributes

What better way to showcase your Pakistani-ness than to give a taste of your culture? The show saw performances highlighting cultural aesthetics from all four provinces of Pakistan, with dancers in traditional wear. For those watching onscreen, it must not have been as awe-inspiring but imagine how those present in the stadium were feeling. It must surely have been surreal.




PSL also paid a very hearty tribute to the late Junaid Jamshed when Pakistan's alternative anthem Dil Dil Pakistan came on. Obviously, the crowd went wild at that. This was followed by Ustad Nusrat Fateh Ali Khan's Pakistan Pakistan.

Ali Zafar

It would have been an injustice to not have Pakistan's biggest pop star Ali Zafar perform at the ceremony. Thankfully, he did, mesmerising the audience with tracks such as Asman Ko Chootey Jayen Hum and his official PSL anthem Ab Khel Jamay Ga. Zafar even bust out some moves and got the audience swooning over him.




Shaggy

Jamaican reggae fusion superstar Shaggy graced the ceremony with some of his hits, including It Wasn't Me, I Need Your Love, Don't You Need Somebody and others. His entertaining performance served as a prelude to the upbeat and energetic performances by the Pakistani stars, Zafar and Shehzad Roy. It definitely set a fantastic tempo for the rest of the show.

Have something to add to the story? Share it in the comments below.