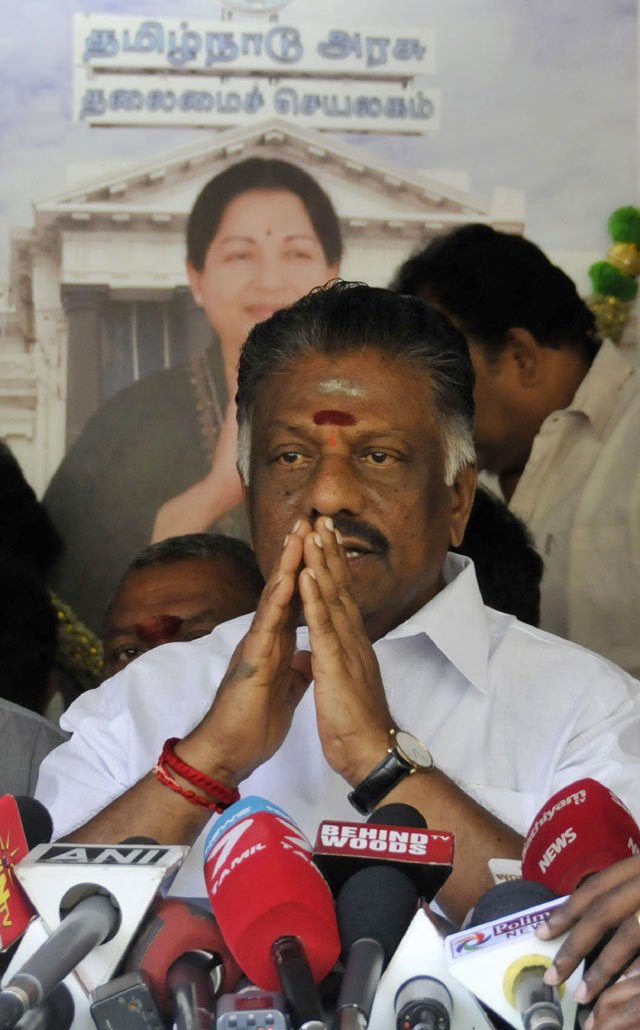 ---
CHENNAI: The chief minister of India's Tamil Nadu state on Wednesday refused to give way to his anointed successor, threatening to plunge the prosperous southern region into chaos months after the death of its popular leader.

O Panneerselvam took over as chief minister after Jayalalithaa Jayaram, a former film star who enjoyed an almost god-like status in the state of 78 million people, died in December. On Sunday his party unexpectedly announced he had resigned and that Jayalalithaa's former aide VK Sasikala -- a one-time video cassette seller who has never held political office or stood for election -- would take over.




But just days later, Panneerselvam told journalists he would not stand down, insisting he had grassroots support in the ruling All India Anna Dravida Munnetra Kazhagam (AIADMK) party that Sasikala heads. "I will prove the majority at the state assembly floor. I am discharging my duty as the chief minister now, as per the wish of the party workers and common people," he told reporters.

Political novice to become next head of Indian state

The comments have raised the prospect of a split in the party that rules Tamil Nadu, one of India's wealthiest states, whose capital Chennai is an auto manufacturing hub. Sasikala has responded by sacking Panneerselvam from all party positions and accusing him of betrayal.

The death of Jayalalithaa, a three-time chief minister, sparked a mass outpouring of grief across Tamil Nadu, with huge crowds lining the streets to pay tribute to her. Sasikala was running a video parlour and Jayalalithaa was a budding politician when the two met, which marked the beginning of a decades-long friendship dogged by corruption scandals.

Sasikala was briefly expelled from the party over allegations her family was misusing the Jayalalithaa name, but was allowed back in after she publicly distanced herself from her husband. In 2014, both women were sentenced to jail for corruption. They were acquitted on appeal, but the case is still going through the courts.