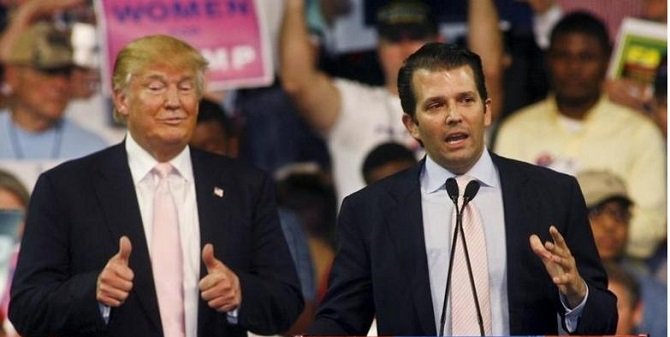 ---
WASHINGTON DC:
Donald Trump Jr has taken the reins of the Trump International Hotel near the White House after critics charged it was a conflict of interest for US President Donald Trump to run the hotel while also running the federal government that is leasing the building to his company.
A filing with the District of Columbia government last week showed that the younger Trump took over as president of the company that runs the luxury hotel as well as a restaurant and spa in the building.
Iranian child seeking emergency eye surgery arrives in New York
The filing left unresolved a controversy about Trump's leasing the Old Post Office, the historic government building that houses the hotel. Democrats have criticised the lease as a conflict of interest, and the agreement also has come under scrutiny from Representative Jason Chaffetz, the Utah Republican who heads the House of Representatives' Oversight Committee.
Chaffetz met Trump at the White House on Tuesday, and a spokesperson for Chaffetz said they spoke about the lawmaker's reform agenda, including civil service and postal reforms.
Democratic lawmakers have said conflict-of-interest laws prohibit Trump, as president, from being both landlord and tenant of the hotel a few blocks from the White House.
They have asked the General Services Administration, which oversees federal property, to clarify the status of the lease arrangement.
The agency did not respond to a request for comment, but a spokesperson for Representative Elijah Cummings of Maryland, ranking Democrat on the Oversight Committee, said the GSA has told the lawmaker it was still evaluating whether Trump was in violation of the lease.
Elliott Abrams is Trump's leading candidate for deputy secretary of state
The hotel lease held by Trump Old Post Office LLC includes a standard provision barring members of Congress or other elected federal officials such as the president from having any part of it. Trump is the company's majority owner.
The Trump International Hotel has become a rallying point for anti-Trump protesters since it opened in September. Trump said last month he would keep ownership of his global business empire but hand over control to his two eldest sons, Donald Jr and Eric.
Watchdogs have said the arrangement would not prevent conflicts of interest in the White House.
COMMENTS
Comments are moderated and generally will be posted if they are on-topic and not abusive.
For more information, please see our Comments FAQ