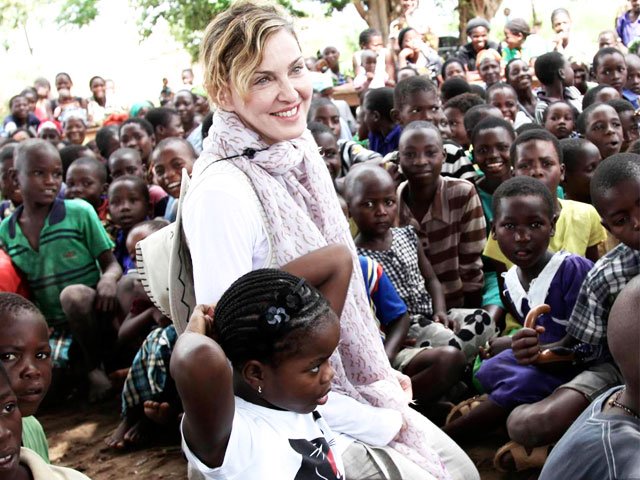 ---
US superstar Madonna adopted twin girls in Malawi on Tuesday, a court official told AFP, raising to four the total number of children she has adopted from the southern African nation.
Just two weeks ago, she denied being involved in a fresh adoption application in Malawi, where she has been caught up in controversy.
"I can confirm that Madonna has been granted an adoption order for two children," said judicial spokesman Mlenga Mvula, describing them as four-year-old twins called Esther and Stella.
Madonna lauds Sharmeen Obaid Chinoy's documentary on Qandeel Baloch
Ahead of the ruling by judge Fiona Mwale, the singer arrived at the High Court in the capital Lilongwe with a large number of private security guards and police, local media said.
Madonna, who set up a charity called Raising Malawi in 2006, previously adopted two other children there, David Banda in 2006 and Mercy James in 2009.
Her publicist was not immediately available for comment following the court's approval.
Mwale said the twins were from the Home of Hope orphanage in Mchinji, a western town near the Zambian border which lies 110 kilometres from Lilongwe.
David Banda was adopted from the same orphanage.
Two weeks ago, Madonna, 58, had denied reports that she had appeared in the same court to file an adoption application, telling US magazine People that "the rumours of an adoption process are untrue."
Rocky relations
Madonna's charity is funding a surgical unit for children at the Queen Elizabeth hospital in Blantyre, Malawi's commercial hub.
The singer last visited the hospital in July, taking her two adopted children with her.
Madonna loses custody war for son with ex-hubby Ritchie
But she has not always been welcomed with open arms.
In 2013, the popstar was stripped of VIP status by former president Joyce Banda's government, which accused her of being "uncouth" and wanting unending gratitude from the nation for her adoptions.
But in the 2014 elections, Banda was ousted as president by Peter Mutharika who has moved to repair the relationship, saying "my government has always been grateful for the passion Madonna has for this country".
Last July, Madonna said she would not revive plans for a $15 million (14 million euro) academy for girls in Malawi, which were shelved following allegations of mismanagement which had sparked her tiff with Banda. The singer, who divorced film director Guy Ritchie in 2008, now has six children.
Last month, she made a surprise appearance at a mass rally for women's rights in Washington in defiance of Donald Trump who had been inaugurated as president a day earlier.
Madonna moved to tears over Kenya child rape
During the election campaign, she had backed Hillary Clinton's bid to become America's first woman president. She completed a global tour for her latest album Rebel Heart last year and will soon direct a movie, Loved.
Have something to add in the story? Share it in the comments below.
COMMENTS
Comments are moderated and generally will be posted if they are on-topic and not abusive.
For more information, please see our Comments FAQ