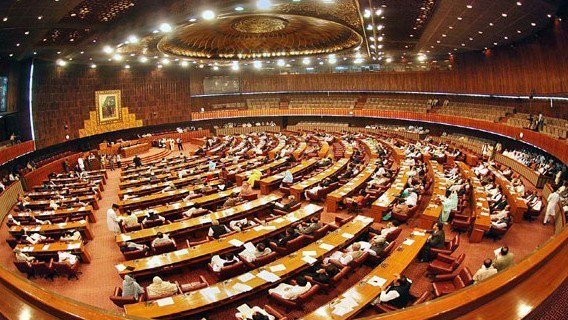 ---
ISLAMABAD: The National Assembly on Tuesday passed the Compulsory Blood Test of the Relatives of Thalassemia Patient Bill-2017, making it compulsory for couples to get tested before entering into wedlock.

PPP's Dr Azra Fazal Pechuho piloted the bill as private members' bill that was passed with some amendments. The house also passed another private members' bill 'the National Commission on the Status of Women (Amendment) Bill, 2016 moved by MQM lawmaker Dr Nikhat Shakeel Khan.

The bill on thalassemia was aimed at taking concrete steps to control the hazardous disease. Under the law, all clinics, hospitals and centres handling and treating Thalassaemia patients shall ensure that blood relatives of children having Thalassaemia are all screened for the disease.




This test is to be made compulsory for siblings, first cousins and uncles and aunts who are blood relatives. It is particularly compulsory for those blood relatives of thalassemia patients who are getting married to get a pre-marital blood screening to ensure that they are not carrying the trait.

Minister CADD Tariq Fazal Chaudhry welcomed the bill and urged provincial governments to follow the bill.

The bill on the status of women aims to amend and give clear timeframe to the government to appoint chairperson to make the commission more effective.

Speaking on a point of order, lawmaker from Fata Haji Shah Jee Gul Afridi protested over the removal of Fata reforms from the cabinet agenda for Tuesday's meeting.

He termed it "unjust" and said: "It sends a negative message to the people of Fata."

Speaking on the issue QWP chief Aftab Sherpao said: "Initially, Prime Minister Nawaz Sharif was enthusiastic about the reforms, but now he seems a bit hesitant about initiating the process."

PkMAP chief Mahmood Achakzai said Fata reforms should be done with the consent of the people of the area.

Another Fata lawmaker Shahabuddin Khan wrapped his mouth with a black scarf and wore black armbands as mark of protest to the government's apathy towards the tribal people.

A treasury lawmaker Babar Nawaz raised the issue of the violation of sanctity of Sherwani and Jinnah Cap as he believed it was being worn by low cadre employees at luxury hotels.

"Even staff of the lower house wore Sherwani and Jinnah Cap as uniform."

He called for eradicating this culture and giving respect to these attires. However, lawmakers from the opposition benches were of the view that anyone can wear Sherwani and Jinnah Cap.

The ninth and the last sitting of the 39th session of the house was chaired by Deputy Speaker Mutaza Javed Abbasi.

PML-N and MQM lawmakers introduced the Compulsory Sewage Water Management and Reprocessing Bill-2017 and the Federal Investigation Agency (Amendment) Bill, 2017, respectively. Both the bills were referred to the relevant standing committees.

Published in The Express Tribune, February 8th, 2017.
COMMENTS
Comments are moderated and generally will be posted if they are on-topic and not abusive.
For more information, please see our Comments FAQ