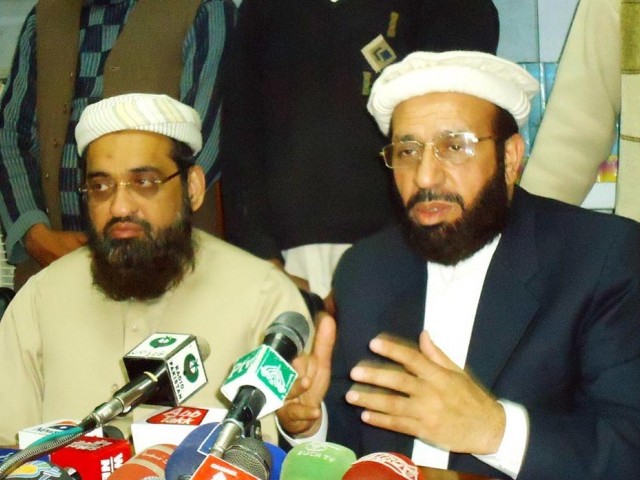 ---
PESHAWAR: The Khyber-Pakhtunkhwa government has decided to form a 10-member board to advise it on religious matters.

The decision was made after K-P Chief Minister Pervez Khattak met religious scholars belonging to different schools of thought at the CM House on Tuesday, according to a press statement released after the meeting.

Elementary and Secondary Education Minister Muhammad Atif Khan and other provincial lawmakers were also present during the meeting.

The Muttahida Ulema Board would have a broad representation and its members would be selected after holding consultations with scholars belonging to all schools of thought. The board would guide the government in enacting legislation or taking any decision in light of the teachings of the holy Quran and Sunnah.

'Hollow promises': Siraj says PML-N failed to deliver




"Soon they will select key members of the board through mutual consultation and its first assignment will be to revise the whole curriculum taught in educational institutes in K-P."

Khattak said the basic aim of the meeting was to discuss Islam-related matters and find solutions in the light of the teachings of the holy Quran and Sunnah by holding mutual consultations with different religious sects.

"The selected board will give the revised curriculum to the government that will be implemented across the province from the new academic year."

Jamiat Ulema Islam-Samiul Haq (JUI-S) leader Maulana Yousaf Shah appreciated the government's initiative and said the government had adjusted all their recommendations in the curriculum.

He said: "It is the need of the hour to make curriculum for schools through holding mutual consultations with all religious sects," adding, "It is a great occasion that Ulema belonging to all schools of thought have come together on a very important issue and agreed on the one-point agenda."

PTI failed to deliver in K-P, claims PPP

Maulana Yousaf assured Ulema's full support to the government on Islam-related matters and said it was necessary that Ulema reviewed all religious matters before their implementation.

Meanwhile, K-P Elementary and Secondary Education Minister Muhammad Atif Khan told The Express Tribune that from the new academic year, teaching of the holy Quran and its translation would be implemented. He said if required more teachers would be hired to teach Islamic Studies, Arabic.

To a question, the minister replied that the Islamic teachings would be applicable to Muslim students only, adding minority students would be taught ethics.

The minister said a meeting with the scholars of minorities is also in the pipeline to review books for the students belonging to the minorities.

Published in The Express Tribune, February 8th, 2017.