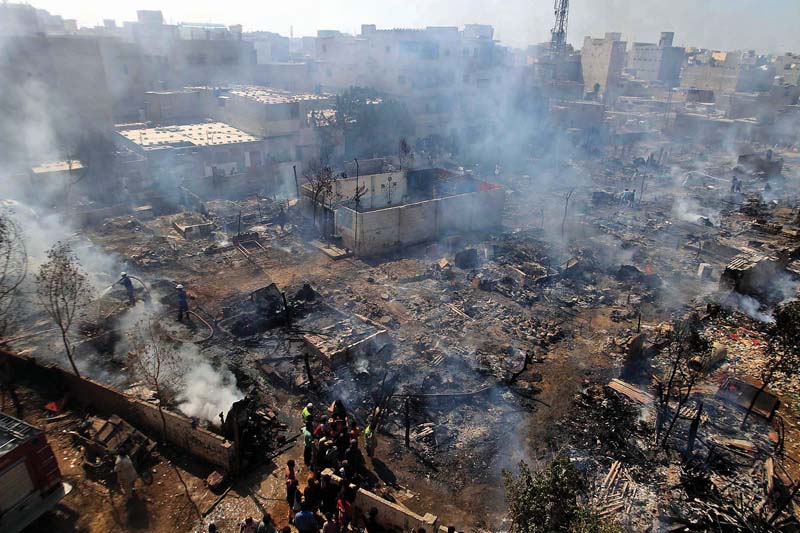 ---
KARACHI: The Sindh High Court (SHC) directed on Tuesday the police, the Sindh Building Control Authority (SBCA) and the Karachi Water and Sewerage Board (KWSB) authorities to maintain status quo in respect of 40 acres belonging to a treatment plant in Mehmoodabad.

Headed by Justice Muhammad Shafi Siddiqui, the bench also issued notices to Sindh IG, the SBCA director-general and the KWSB managing director to file their comments by February 13.

The order came on a lawsuit instituted by 136 residents of Mehmoodabad, who had accused the respondents of attempting to dispossess them.

The plaintiffs, including Salman Hasan, informed the court that around 1,500 houses have been built on the 40 acres, which was legally leased to them by the Karachi Metropolitan Corporation (KMC) in the past upon fulfilling all the legal formalities, including payment of the requisite fees.

The Karachi Water and Sewerage Board (KWSB) authorities published a public notice on February 6, asking all those living on the land to vacate it, arguing that it belonged to the KWSB treatment plant.

The plaintiffs contended that the KMC had leased the land to them, therefore, there was no question of illegally encroaching and building houses on it. They pleaded the court declare that the plaintiffs are lawful owners of the land.

In the on-going inquiry by a judicial commission appointed by the Supreme Court, the KWSB had claimed that it cannot run its treatment plant in Mehmoodabad because 40 acres of it had been leased out illegally.

Published in The Express Tribune, February 8th, 2017.
COMMENTS
Comments are moderated and generally will be posted if they are on-topic and not abusive.
For more information, please see our Comments FAQ