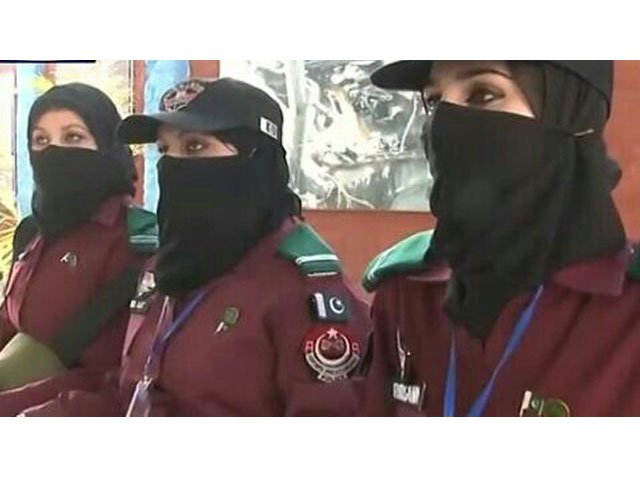 ---
PESHAWAR: Three sisters from the Karak district of Khyber-Pakhtunkhwa have become part of the provincial bomb disposal squad (BDS) after completing a special training in the field to combat terrorism.

Women in the province are usually considered unfit for difficult jobs, i.e. disposing explosives in the terrorism-affected province as compared to their male counterparts. However, the three siblings negated this notion to prove their mettle in the field.

Belonging to the Sabirabad village of Karak; Pari Gul, Rukhsana and Samina completed their course in explosives handling from K-P police, and are now capable to dispose bombs.




Speaking to Express News, Pari Gul said they belonged to an underprivileged family and their father became the victim of poliovirus in his childhood.

Joining the police a tough sell for women

"We applied for the positions in order to bear expenses of the household," Gul, sibling to nine sisters and a brother said. "We did not want our parents feel daughters were a burden on the family."

She added, "We are now in police force to save lives of the people by going through extensive training," revealing that they also received Elite Force Commando training in 2016.

The women have achieved expertise in various components of BDS as Gul can operate hand grenades, heavy weapons and use a bomb suite, whereas Rukhsana is capable to search and find out about places where explosives may be planted.

K-P police to tackle terror through research-based strategy

Gul's sister Samina said the three of them wished to serve police in their native Karak district.

"We are ready to sacrifice for the people of the country as the basic aim of coming to police force was to save people from the acts of terror," she remarked.

They will be trained in the next phase for handling toy bombs, suicide vests and diffusing improvised explosive devices (IEDs), added Samina.
COMMENTS
Comments are moderated and generally will be posted if they are on-topic and not abusive.
For more information, please see our Comments FAQ