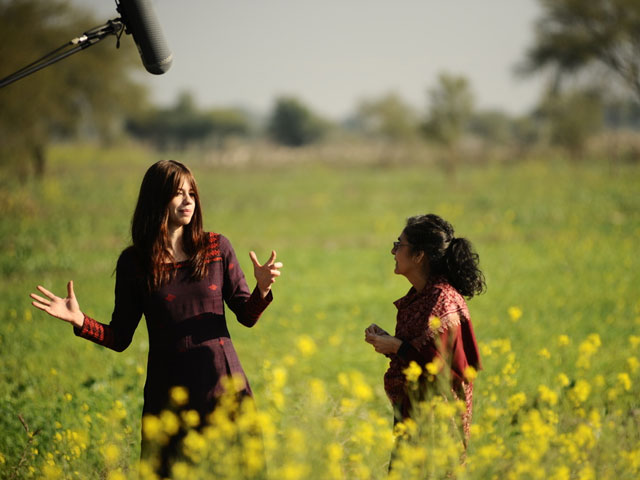 ---
KARACHI: Before the ties between Pakistan and India got affected, Bollywood actor Kalki Koechlin visited Pakistan. The renowned Indian actor, who has gained critical recognition for her work in various mainstream and independent films, was reported to be working in collaboration with Pakistani filmmaker Sabiha Sumar on her documentary Azmaish – Trials of Life.

Speaking with The Express Tribune, Koechlin revealed her first collaboration with a Pakistani filmmaker was an enriching experience. "We share a great professional relationship and I learnt a lot from her. She is one of the most sensitive directors I have worked with till date."

The Yeh Jawaani Hai Deewani star shared she had always wanted to visit Pakistan and the documentary, which revolves around religious extremism in the subcontinent, provided her that opportunity. "Pakistan is beautiful and has such amazing terrain; there are so many dimensions and layers to the country." She said that she had two powerful moments that she could remember, one of them being in the deserts of Sindh. "It was in the middle of nowhere where the poorest of the poor live; it takes them hours to travel to get water. There are no schools, nothing. Interacting with the people there and learning about the living situation had a huge impact on me. It was a very moving experience."

Another experience was a trekking day with the Khamosh Pani filmmaker. "Sabiha and I trekked to the top of this mountain in the outskirts of Islamabad. It was a difficult trek but I remember when we finally reached the top of the mountain, it was breathtaking."

As far as the documentary goes, it was shot prior to the rise in political tensions last year. However, the timing couldn't be more right: an Indo-Pak collaboration amid cross-border friction, which is even more fueled by the media and politicians, surely sends a positive message itself. Koechlin said, "It's very upsetting to see the conflict being created due to politics. I am hoping that Azmaish creates a change and shows people that we all are ultimately looking to co-exist in peace."




Kalki and I shared a similar level of curiousity: Sabiha Sumar

She hoped the documentary will address the issue and bring the two neighbours closer . "I realised that despite the obvious similarities in culture and language, India and Pakistan are vastly different nations," she said. "Both have glaring issues and need to look inward rather than point fingers at each other. The project made us wonder if we are looking for a religious identity in India now, and what that did to Pakistan."

It's interesting to note how films usually pit the two countries against each other to cash in on the sentiment. However, Azmaish will be among the very few which choose to focus on uniting the two nations against common enemy.  Koechlin believes film is a great medium to reach out to a vast audience and should be used accordingly. "With the kind of films being released nowadays, there is a conscious effort being made to tell important stories which have an important message. I hope Azmaish changes the way both countries perceive each other."

India and Pakistan remarkably different countries: Kalki Koechlin

The last few months saw Indo-Pak tensions escalate, resulting in boycotting of Indian films and banning of Pakistani artists. In the name of nationalism, artists were targeted on both sides. Koechlin said she found it depressing that political tension could seep into art. "Because art is the space where we're trying to find ways to understand each other as different cultures, to respect that, to have dignity of life, any form of life and I think that's why we do art. I think cultural exchange is very important."

Have something to add in the story? Share it in the comments below.