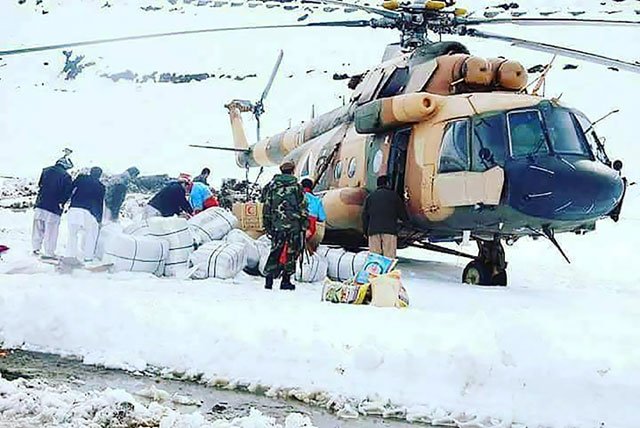 ---
KABUL: Afghan villagers were digging with shovels and whatever else they could find in a desperate race Tuesday to save survivors days after avalanches buried whole villages in the mountainous north and east.

Army helicopters were sent to deliver aid as rescuers on the ground battled snowdrifts to reach remote towns.

But blocked roads and difficult terrain meant rescue equipment was in short supply in villages in worst-hit Nuristan province, where at least 66 people have died -- including 53 in one village.

Avalanches: Heavy snowfall kills 54 in Afghanistan

Abdul Rahim, a villager in Barg-e-Matal district in Nuristan, said residents had used "any tools possible" to shift piles of snow as fears grow for those still buried underneath.

"We have no contact with several villages and districts. A lot of people are still under the snow, we have to rescue them as soon as possible," he told AFP by phone.




Rescuers have been battling to reach the area since Sunday, when people, houses and livestock vanished under heavy snow as a series of avalanches struck in north, east and central Afghanistan, blocking roads and passes.

Officials have said at least 119 people across several provinces were killed, including 19 in Badakhshan and 16 in Parwan, though figures are still being confirmed.

The UN's Office for the Coordination of Humanitarian Affairs said that, with access to affected areas difficult, it may be difficult to ascertain the full extent of the damage.

The defence ministry said the army had been forced to airdrop supplies in some areas hit by heavy snow and poor visibility.

Some 600 houses in Nuristan were destroyed, provincial governor Hafiz Abdul Qayyom told AFP, and the rescue effort was continuing.

"So far 10 people have been rescued and transported to neighbouring Nangarhar province for treatment."




President Ashraf Ghani said Tuesday that avalanches and freezing weather had killed 160 people and destroyed hundreds of houses across Afghanistan in the past six weeks.

Army chief stresses border management, intelligence sharing with Afghanistan

"Natural disasters can hurt any country, but it is hurting us most, because the war has limited our abilities. We can't help the needy people that way we should," Ghani said.

The Taliban, who are waging a bloody insurgency to topple the US-backed government, mocked the government's rescue efforts in a statement and claimed they had helped dozens of stranded travellers.

Deadly avalanches are common in Afghanistan's mountainous areas in winter and spring, and rescue efforts are frequently hampered by lack of equipment.

Some areas in mountainous Badakhshan, for example, are only accessible by road for three months a year, and can take up to 20 days to reach by road.

Despite billions of dollars in international aid after the ousting of the Taliban regime in 2001, Afghanistan remains among the world's poorest nations.

Last month heavy snowfall and freezing weather killed 27 children, all under the age of five, in the northern province of Jawzjan.
COMMENTS
Comments are moderated and generally will be posted if they are on-topic and not abusive.
For more information, please see our Comments FAQ