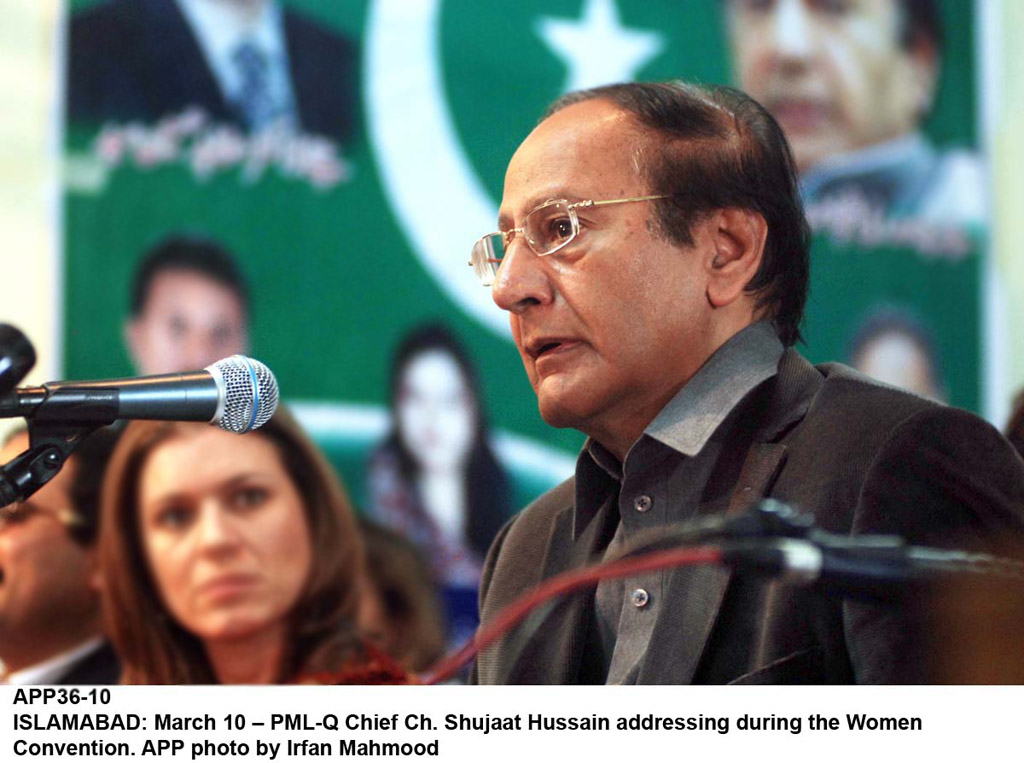 ---
ISLAMABAD: The country's once dominant party – the PML-Q – is fighting for its political survival as it has stepped up efforts to join forces with 'likeminded' factions of Muslim League in a desperate move to stop further splits in its ranks.

Even though the party leadership is tight-lipped on a recent meeting held in Dubai between PML-Q President Chaudhry Shujaat Hussain and All Pakistan Muslim League (APML) chief Gen (retd) Pervez Musharraf, sources believe the move is aimed at preventing further divisions in the party as some party bigwigs are inclined towards 'mending fences' with the ruling PML-N.

Joining PPP: PML-Q leader jumps ship

Sources told The Express Tribune that some senior leaders from the PML-N and the PML-Q were engaged in backdoor contacts. Not long ago, reports surfaced that Prime Minister Nawaz Sharif was considering top PML-Q leader Mushahid Hussain Sayed for the post of foreign minister.

Sharif has, so far, not appointed any foreign minister and the possibility of Mushahid's elevation to the post is still on the cards, sources said. This implies that he will have to quit his Senate membership to get re-elected as a lawmaker on the PML-N ticket in case the plan is to be materialised.




In addition, sources said, the PML-N leadership in Punjab is in talks with Q-League's provincial MPAs -- including Sardar Asif Nakai, Sardar Vickas Hassan Mokal and Ahmad Shah Khagga. The PTI leadership is also said to be in contact with Nakai, who is yet to make a decision about joining any party, insiders said.

Alarmed with this scenario, the Q-League has started reaching out to other factions of Muslim League as part of its efforts to form a grand alliance.

Speaking to The Express Tribune, senior PML-Q leader Senator Kamil Ali Agha said the move to unite different Muslim League factions excluding the PML-N had been in the offing since long, but it could not be materialised for one reason or the other.

He said the PML-Q and APML are in contact with the PML-Functional and the Awami Muslim League for the formation of a grand alliance.

Asked if there was any possibility for an alliance between the PML-N and the PML-Q against the backdrop of reported backdoor contacts between leaders of the two parties, he said: "This is not possible."

"In the very first place, we don't consider Nawaz Sharif's party as Muslim League. You can call it Nawaz League but it's not Muslim League because it's a one-man show — that's not how Muslim Leagues work."

Agha said the Musharraf-Shujaat meeting was the 'first phase' of their efforts to form a grand alliance and Shujaat would announce the future course of action after his return from Dubai. "The first phase was very encouraging and our efforts would deliver results soon. Barring the PML-N, all factions of Muslim Leagues want to be united on a single platform. Our efforts would continue till this happens."

On the reports of Mushahid's possible elevation as foreign minister, the PML-Q senator said: "He cannot become a foreign minister so long as he's a senator on the PML-Q ticket. If things take a different turn, I cannot say."

On the other hand, a PML-N source saw the recent move of forming an alliance of Muslim Leagues with scepticism. "The PML-F and PML-N are in alliance in the Centre where some Functional Leaguer's hold important government portfolios. Musharraf's APML and Sheikh Rashid's AML have only one seat each in parliament. And the PML-Q is already faced with an imminent downfall. You can well imagine what fruit their efforts of grand alliance will yield."

Leader of the House in the Senate and PML-N chairman Raja Zafarul Haq dismissed the significance of Musharraf-Shujaat meeting. "Such meetings have taken place in the past. They haven't helped. The political survival of the former dictator and Q-League is at stake, and they want to show that they are still politically relevant. It's all about their political survival, something that doesn't bother us much."

On the likely inclusion of some Q-Leaguers in the PML-N, he said, "If some people of good repute want to join us, and our leadership is willing to welcome them, then nobody should have any problem."

Published in The Express Tribune, February 7th, 2017.