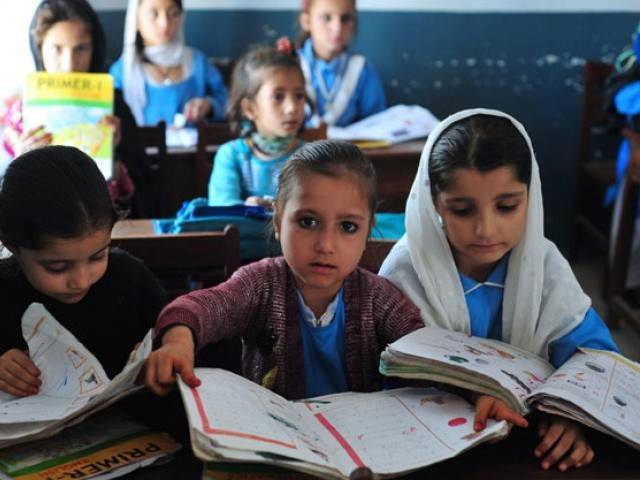 ---
PESHAWAR: The Khyber-Pakhtunkhwa government will hire women teachers in primary schools for both boys and girls because they are more capable than their male counterparts, provincial Information Minister Mushtaq Ghani said at a press conference at the Peshawar Press Club on Monday.

Briefing journalists about the cabinet meeting here, he said the provincial cabinet had approved the draft of the 'K-P primary and secondary education bill 2017' as well as the Rs592 billion 'five-year education sector plan' for the province's elementary and secondary education department.

After the bill gets approved by the provincial assembly, parents who did not send their children to schools would be sentenced for a month in jail in addition to paying fine of up to Rs100 per day for the absence of students from schools.




Ghani also said the primary and secondary education department had submitted the summary of the bill and the five-year plan.

"Research has found that women teachers were more capable of looking after children and providing them education at the primary level than their male counterparts," Ghani said.

"Only women teachers will be preferred to teach at girls and boys' primary schools," he said.

According to Ghani, almost 70 per cent of girls in the province were studying in boys' schools at primary level, while just five per cent of boys were studying in girls' primary schools.

"Under the new five-year plan, 70 per cent new schools will be built for girls."

Highlighting the salient features of the five-year plan, Ghani said that it would help improve education facilities at all government-run schools.

A 100 percent increase in enrollment was envisaged in the plan in addition to the hiring of 50,248 new teachers, providing training to 2,200 principals of higher and secondary schools.

The five-year plan, he said, also envisaged providing training in English teaching to 83,000 primary school and 9,200 high school teachers, while 61,500 high school teachers would be provided training in biology, mathematics, chemistry and physics.

Under the Constitution, he reminded, the government was responsible for providing free and compulsory education to children between the ages of 5 and 16.

"The draft of bill has been presented in the cabinet and approved for further discussion."

The minister said that learning the Holy Quran would also be made compulsory. "For this purpose, subjects of Islamiyat and teaching Quran have been made compulsory."

The cabinet, he said, had also formed a committee which was tasked to prepare a report for commercialisation of industrial estates, adding that the cabinet had also been briefed about the billion-tree project and an amendment had been suggested in the K-P Forest Development Funds rules of 2006.

Published in The Express Tribune, February 7th, 2017.
COMMENTS (1)
Comments are moderated and generally will be posted if they are on-topic and not abusive.
For more information, please see our Comments FAQ