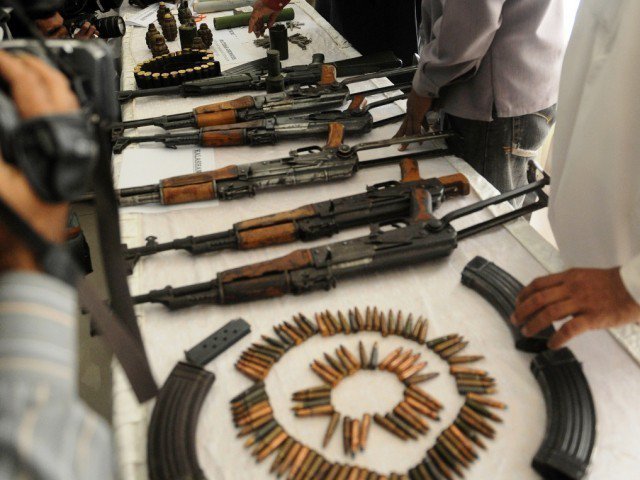 ---
GILGIT: In a bid to rid the valley of guns, the Gilgit-Baltistan government is mulling a plan to offer a one-time amnesty scheme under which people in the region would be able to turn in their guns, legal or otherwise.

The scheme is, however, still in the initial stages of planning.

Government officials on Monday said that under the scheme residents will be asked to voluntarily submit their guns, licensed or otherwise, to their nearest police stations. All such people would be compensated as per an agreed upon rate.

The decision to collect weapons in the valley comes days after law enforcement agencies in the region recovered a large cache of arms from different groups, some of whom police believed were funded by the Indian intelligence agency – Research and Analysis Wing (RAW) – with the aims of sabotaging the multi-billion dollar China-Pakistan Economic Corridor (CPEC) which passes through the region.

"This will be a one-time offer," a government official said on Monday.

"Those willing to surrender their weapons would also be compensated," he added.

"The scheme is still in the initial stages and details [of dates and compensation] are being worked out to make it an effective exercise," the official said, adding that the proposal had been first put forward by G-B Chief Minister Hafeezur Rehman who had hinted at it before the general elections in the region.

"It will be launched after approval from the chief minister."

Arms began to be smuggled into G-B in the late 80s and reached its peak during the 2000s after the region saw some of the worst sectarian clashes. Owing to the conflict, arms traders opened up new avenues to smuggle in guns to the region, with Khyber-Pakhtunkhwa one of the main sources of these guns.

According to local analysts, G-B people stockpiled so much ammunition that they can defend themselves for days if attacked by an outside force.

"There is a realisation in the power corridors that many people just purchased guns for self-defense and that they could be persuaded to return these guns in exchange for some compensation," said the official.

Meanwhile, the official spokesperson of G-B government Faizuallah Faraq told The Express Tribune that a policy was being laid down to rid the region of arms.

"We will be scrutinising the entire situation to make the amnesty [scheme] effective."

Apart from offering compensation to people returning their guns, the government would also review the situation before deciding on whether an individual would be allowed to keep their licensed guns.

Published in The Express Tribune, February 7th, 2017.