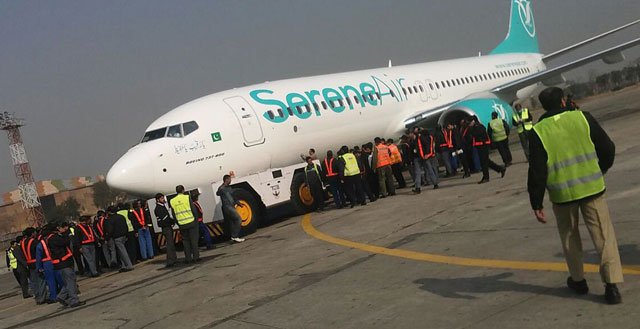 ---
KARACHI: Newly-launched domestic airline, Serene Air's Boeing 737-800 jet was rammed by a tow tug at Islamabad's Benazir International Airport upon arrival from Karachi.

https://twitter.com/sherytheketchup/status/828554353514528768?ref_src=twsrc%5Etfw

The $50 million jet was grounded after a vehicle of Islamabad Ground Crew (Royal Airport Services) hit the aircraft, damaging its body.

"A few immediate flights have been cancelled due to the incident," Serene Air spokesperson told The Express Tribune.

It may take a week to get the damaged plane repaired and bring back into the operations, he added.

Serene Air, which began its flight operations on January 29, was granted a license by the Civil Aviation Authority in October 2016. It is the fourth operational domestic airline; others being Pakistan International Airlines, Shaheen Air and Airblue.