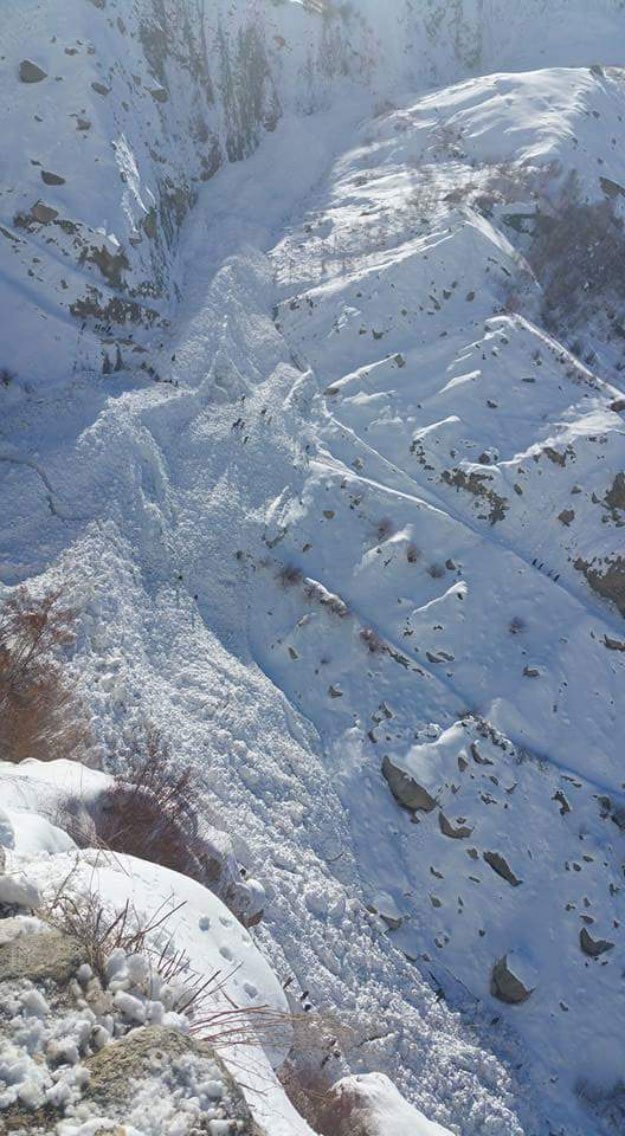 ---
CHITRAL/ ISLAMABAD: At least 10 people, including women and children, were killed when two avalanches struck Chitral on Sunday, local village Nazim Muhammad Ali Hussain told The Express Tribune.

The avalanches smashed into the village of Sher Shal area near Gharam Chashma, killing four women and four children among others.

"Due to blockage of roads after heavy snow, the residents were forced to took their injured relatives to district headquarters hospital on foot for more than five miles," Hussain said.

He added that affected people were still stranded at the site of the calamity and have requested district authorities and provincial government to provide them with relief goods and enable them to protect their families from the harsh weather as their belongings were destroyed in the incident.

It hit eight homes at around 3:00am, said Sheema Ayub Khan, a spokesperson for the Disaster Management Authority in Khyber Pakhtunkhwa.

The region has been hit by heavy snowfall that is four feet (1.2 metres) deep in some places.




Six people who had been trapped beneath the snow were rescued.

Shahab Hameed, a senior administration official in the area, confirmed the death toll, adding that most of the area's roads had been blocked.

"We are trying to reopen the roads and help people," he said.

A separate avalanche killed a soldier at a border checkpoint in Chitral district, a military statement said, while six more soldiers were injured.

Chitral district mayor Maghfriat Shah said the city's airport was shut because of the weather.

The district administration official told The Express Tribune that Provincial Disaster Management Authority (PDMA) had called for helicopter services from the National Disaster Management Authority (NDMA) as the area remained inaccessible due to heavy snow in the last 48 hours.

Killer avalanches hit Indian-held Kashmir

NDMA heli-services will transport the injured while PDMA Khyber-Pakhtunkhwa will provide quilts, blankets, stoves and food items to the victims.

PM orders quick rescue and relief operations

Prime Minister Nawaz Sharif expressed grief over the loss of precious lives the in Chitral tragedy. He has directed all relevant federal and provincial authorities to reach the site immediately and undertake rescue and relief work on priority.


Prime Minister Nawaz Sharif has expressed grief over the loss of precious lives due to avalanche in Chitral.PM has directed al relevant(1/1)

— PML(N) (@pmln_org) February 5, 2017
PM has also directed NDMA to coordinate rescue efforts&arrange for necessary medical care, food and shelter required for the affectees.(1/3)

— PML(N) (@pmln_org) February 5, 2017




The prime minister also directed NDMA to coordinate rescue efforts and arrange for necessary medical care, food and shelter required for the affectees.

COAS directs assistance to civilian administration

Meanwhile, Chief of Army Staff General Qamar Javed Bajwa directed Pakistan Army officials to maximise assistance to the disaster management authorities and local administrations for timely and effective rescue and relief efforts in the snow-hit areas of the country, military's media wing ISPR said.

Chitral snowfall breaks 20-year record: met chief

According to Pakistan Meteorological Department (PMD) chief the met department had on Thursday issued alerts, warnings to the authorities concerned for a possible glacier outburst (GLOF), flash floods due to rains and afterward avalanches due to heavy snowfall in vulnerable areas of K-P.
COMMENTS (2)
Comments are moderated and generally will be posted if they are on-topic and not abusive.
For more information, please see our Comments FAQ