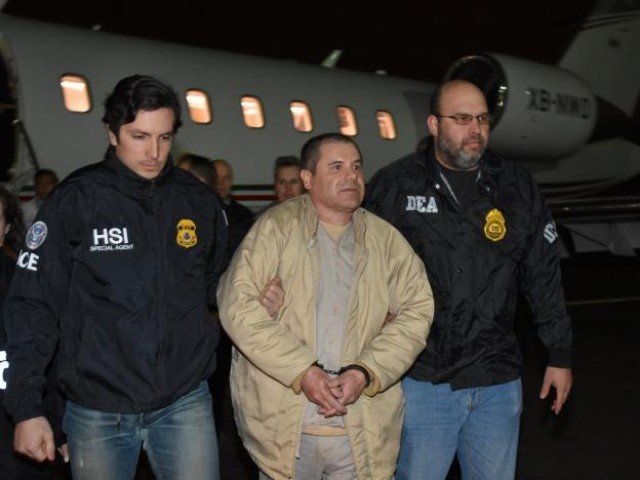 ---
NEW YORK: Mexican drug lord Joaquin "El Chapo" Guzman, accused of running one of the world's biggest drug empires, saw his wife in court Friday after being denied marital visits behind bars.

Guzman, one of the world's most notorious criminals who escaped twice from prison in Mexico, has been held in solitary confinement in New York since being extradited to the United States on January 19.

Emma Coronel, a 27-year-old former beauty queen and mother of Guzman's twins, attended his second court hearing in Brooklyn on Friday, dressed in black with a yellow scarf knotted around her neck.

Guzman's public defenders asked Judge Brian Cogan permission for Coronel to visit her husband at the Metropolitan Correctional Center, but Cogan declined to intervene, saying it was up to the jail which has already denied it.

Mexico extradites top drug lord 'El Chapo' to US

"It's an unusual case," Cogan noted. "Obviously they are taking extra security measures. We know the reasons for that," he added.

US authorities are determined that Guzman will have no opportunity to stage another daring escape after twice fleeing Mexican prisons, once in a laundry cart and most recently through a tunnel under his shower.

The 59-year-old defendant, dressed in navy short-sleeved prison scrubs, was calm and expressionless for the 40-minute hearing, which he followed through a Spanish language interpreter sitting next to him.

He pleaded not guilty to a raft of firearms, drug trafficking and conspiracy charges at an initial court hearing on January 20.

Friday's hearing was conducted under stringent security measures, with armed guards dressed in bullet-proof vests at the court door and attendees required to pass through two security checkpoints before entering the room.

Mexico drug lord 'El Chapo' pleads not guilty in U.S. court

His lawyers say he has been unable to make telephone calls or communicate directly with his family or lawyers in Mexico, locked in a cell 23 hours a day with only one hour of solitary exercise at the MCC in downtown Manhattan.

His personal appearance was a small victory after prosecutors recommended that he appear by video link to keep down costs and minimize disruption caused by transporting him on the two-mile (three-kilometer) trip.

The judge set the next hearing in May.

If he stands trial and is convicted, Guzman could spend the rest of his life in a maximum security US prison. Prosecutors are also seeking to obtain a $14 billion criminal forfeiture order against him.
COMMENTS
Comments are moderated and generally will be posted if they are on-topic and not abusive.
For more information, please see our Comments FAQ