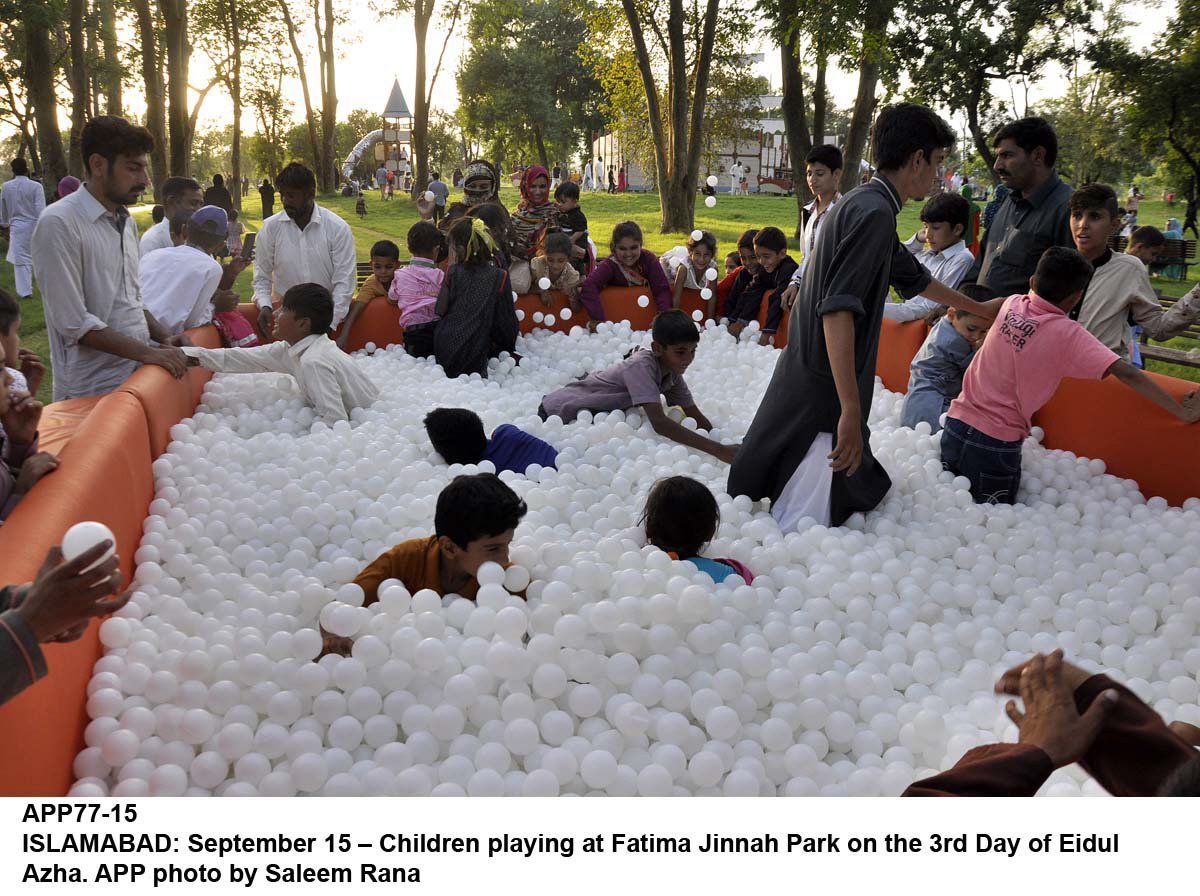 ---
ISLAMABAD: Mushtaq Khan, a 48-year-old bank manager, used to enjoy his nightly jogs in Fatima Jinnah Park - until worsening power cuts two years ago began plunging him into darkness mid-stride, forcing him to change his schedule to run in the morning instead.

But after a new, large-scale solar lighting system was installed at the park in December, Mushtaq has been able to return to his old schedule - and he no longer worries about running into porcupines or wild boar in the dark.

"After learning that a new solar system now provides uninterrupted power to the entire electric system round-the-clock, I have swapped back the jogging schedule from morning to evening," he told the Thomson Reuters Foundation during a brief pause in his evening run.

In December, the Capital Development Authority installed 3,400 solar panels on a 2.5-hectare parcel of the 300-hectare (750-acre) park, at a cost of $4.8 million. The system provides constant power supply to one of the city's key recreational attractions, bypassing the power shortfalls on the main grid.

The solar installation produces 870 kilowatts of electricity - enough to power 450 homes – runs water pumps, sprinkler systems and lights for the park, and provides power for the offices of the Islamabad Metropolitan Corporation (IMC) and Capital Development Authority (CDA), both located within the park.

The initiative, financed with a grant from China, uses batteries to store solar energy to meet lighting and other electricity needs 24 hours a day, said IMC chairman Sheikh Anser Aziz

Les work, more visitors

As solar energy extends the hours the park can be used – and powers irrigation to keep its flowers and other plants in top condition, as well as rides in the children's playground  - officials say visitors who had abandoned it are returning.

"We are seeing more and more visitors coming back to the park for recreational and physical fitness activities," Aziz said, noting that solar power "has restored life to the park".

An estimated 50,000 people come to the open space weekly for exercise, sports, flower exhibitions and the panoramic view of the lush green Margalla hills nearby, CDA officials said.

Park gardener Karam Ali said solar power has made his job much easier, particularly now that the water pumps and sprinklers are no longer shut down by persistent power cuts.

"The new solar energy system is really marvellous and no less than a good friend," he said. Power outages used to force employees to stay after hours to get their work done, without payment, he said, but that problem is now solved.

Similar solar installations could potentially play a wider role in the country, which struggles with severe power shortages, particularly in the hot summer and cold winter months when air conditioning or heating are in demand and power cuts can last up to 20 hours a day, researchers say.

Only about two-thirds of the country's nearly 200 million people have access to electricity, according to the World Bank. To expand access and keep pace with economic and population growth, Pakistan needs to invest between 3.7 per cent and 5.5 per cent of its GDP each year in electricity generation, the bank says.

Putting money into renewable energy could reduce blackouts, improve health, boost the economy and help the country meet its goals to cut poverty and climate-changing emissions, energy researchers say.

Pakistan could produce as much as 2.9 million megawatts of power from solar, 340,000 megawatts from wind and 100,000 megawatts from hydropower if funds were available to build the infrastructure, according to Pakistan's Alternative Energy Development Board (AEDB) and World Bank studies.

With the costs of renewable energy falling fast, Pakistan's Planning, Development and Reforms Ministry late last year announced plans to boost wind and solar power generation by the end of 2018.

Fast track for solar

"These energy plans are being implemented on a fast-track basis in Sindh, Punjab and Baluchistan provinces, which account for 80 per cent of the total solar and wind energy generation potential," said Amjad Ali Awan, chief executive of the AEDB.

The longer-term aim is to boost renewable energy from five per cent to 25 per cent of the country's energy mix by 2030, he told the Thomson Reuters Foundation.

Ahsan Iqbal, federal minister for planning, development and reforms, said the government hoped to replicate solar projects like that in Fatima Jinnah Park.

The project "is convincing us to work with provincial governments to provide solar power to similar public parks, to lessen the load on the national grid and save the budget spent on hefty electricity bills in these public parks", he said.

Thomson Reuters Foundation

Published in The Express Tribune, February 4th, 2017.