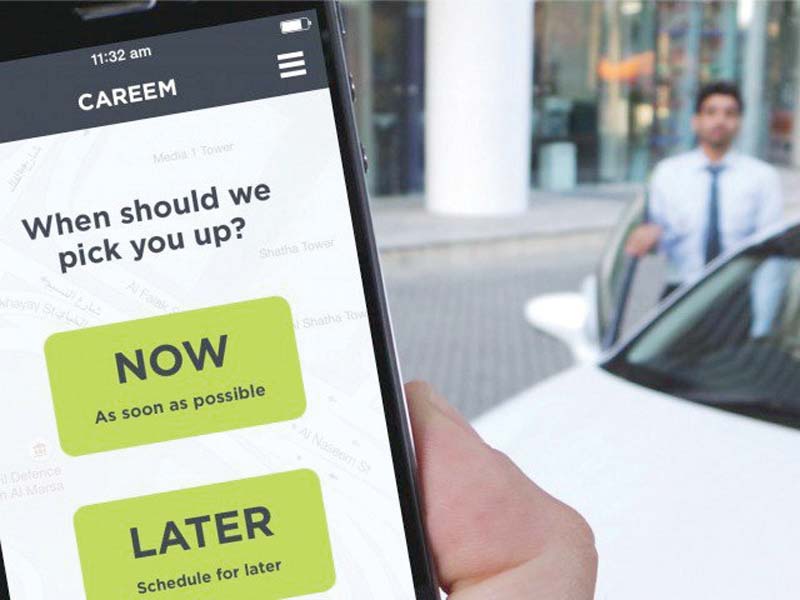 ---
HYDERABAD/KARACHI: Authorities in Sindh swung into action a couple of days ago to slap tax and regulate Careem and Uber taxi services, which have not been in the country for a long time, only to retreat swiftly following a fierce public backlash.

However, the far bigger and proliferating competitors, which have been running their businesses for decades, of these start-ups have not caught the attention of government officials and carry on the business as usual.

14 priceless tweets on Careem, Uber 'ban'

"We feel helpless as we are unable to bring them under any regulation and tax net," commented an official of the provincial transport department while referring to rent-a-car cabs.

These vehicles are privately owned, but they are used for commercial purposes by providing intra and inter-city travel services. These are also hired for special events like wedding receptions.

The official said the vehicles were neither registered with the Excise and Taxation (E&T) Department as commercial vehicles nor did they obtain route permits from the regional transport authorities.




"They also become a public nuisance in some places as they illegally occupy roads and intersections for parking."

These cabs operate in almost all the cities of Sindh. In Hyderabad alone, there are around five taxi stands including Latifabad Unit 7, Eidgah, Hyderabad Bypass and Civil Hospital.

"In each city of Sindh, one can find hundreds even thousands of cabs. But as far as I know, almost every taxi service is running without following the due process of registration, vehicle fitness and tax payment," the official said.

Careem questioned over 'illegal operations'

A transporter contended that they were unaware of the registration procedure. "I entered into this business more than 10 years ago; I followed the same trend that existed in the market then," said the transporter who owns seven taxis.

Another transporter justified the occupying of roads and intersections, saying the government had failed to provide proper parking spots.

Officials of the Regional Transport Authority (RTA) cited a host of problems which barred them from taking any decisive action.

According to RTA Secretary Aukash Memon, "technically, it's difficult to establish that a vehicle which we have impounded was being used as a taxi. Vehicle owners produce every documentary proof to show that the vehicles are privately owned."

Karachi's state

In Karachi too, authorities have completely ignored the taxis running without registration and a fitness certificate.

According to Social Research and Development Organisation CEO Abdul Qadir Bullo, around 4 million vehicles were registered with the E&T department in the city in 2016. Of these, 5% were commercial vehicles including tankers, rickshaws and taxis.

Apart from that, he said, 0.1 million taxis were running unregistered on the city streets and they had so far escaped any government action.

RTA Secretary Manshad Ali told The Express Tribune that 18,764 baby taxis and 759 motor-cabs were registered with them in the metropolis.

Sukkur

In Sukkur, except for one or two rent-a-car services, most of the private cars are being run as taxis and a similar situation exists in other parts of the upper Sindh as well.

E&T Department official Aamir Qureshi said there was no registered rent-a-car service in the city. Most of the people were using their private cars as taxis, he said.

Sindh, Punjab govts move to 'ban' Careem, Uber

Ashiq Ali, who after failure to win a government job, purchased a car and started running it as a taxi, said most of the jobless people were opting for this business. Some have their own cars, while many drive other's cars on salary and commission.

Another taxi driver, Aziz Ghoto, said more than 1,000 cars were being used as taxis but none of them was registered with the E&T Department.

Registration process

RTA Secretary Memon explained that through a simple three-step process, a car could be registered as a taxi.

To begin with, a vehicle owner is supposed to obtain a no-objection certificate from the RTA followed by commercial registration of the car. In the last stage, the RTA issues a three-year route permit.

These vehicles are issued black number plates unlike the yellow plates which are issued to private vehicles in Sindh. "The procedural fee is also bare minimum," Memon said. Officials believe the main reason for avoiding the commercial registration of taxis is to dodge taxes and maintain the resale value of cars.

Published in The Express Tribune, February 4th, 2017.

Like Business on Facebook, follow @TribuneBiz on Twitter to stay informed and join in the conversation.