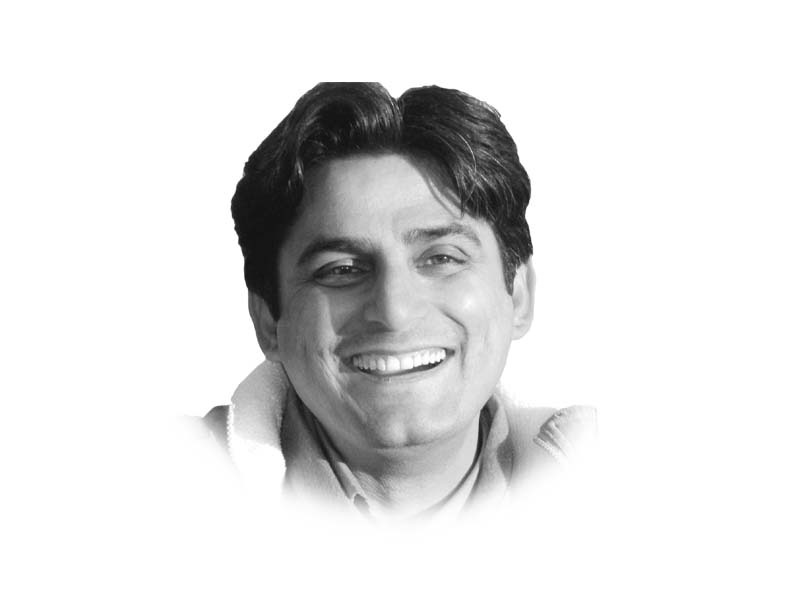 ---
It was July of 2003. An Icelandair jet landed at the Chaklala International Airport. Its flight number wasn't listed amongst arrivals on the notice board. Except the airport officials, a handful of journalists standing outside the terminal knew of the passengers aboard the flight. The special plane ferried 75 Pakistanis, who handcuffed sat in chairs during the 20-hour flight. Add to the misery the cold reception at homeland where Pakistani security agencies took about 90 minutes to clear the first passenger to leave.

They were forced deportees of Bush administration, who were amongst over 13,000 stuck in the post-9/11 broad-based dragnet. Prior the chartered flight, four planes had preceded, starting in June 2002. None was suspected and convicted of terrorism. Some had committed crimes of varying degrees while others become illegal for overstaying the visa limit. However, the swoop was anything but across the board. Away from public or congressional debate, a mechanism was put in place to hound illegal residents belonging only to Muslim countries.

In January 2002, a programme called the 'Absconder Apprehension Initiative,' was launched to go after the 300,000 people whom government records suggested were absentees. Initially filtered were 5,000 scofflaws from mostly Muslim countries using immigration records. Their names were tracked in phone directories, public records and other commercial records.

Back then, a registry of Muslims but of those arriving and leaving the country was also created. The National Security Entry-Exit Registration System (NSEERS) empowered the Justice Department to track the arrivals and departures of over 35 million foreign visitors from Muslim nations. While citizens of Turkey and Uzbekistan were spared from the trouble, North Korea was the only non-Muslim nation to be singled out to comply with NSEERS, which meant reporting to the special desk for photographs, fingerprinting and questioning.

The most bizarre story I reported was of Mohammad Akbar who was fighting a 1995 deportation order. Learning about NSEERS requirement for Pakistanis, he decided to visit the Immigration and Naturalisation Service office. That voluntary meeting changed his life for worse and forever. Though his case was sub judice, the officer arrested him right there. He was eventually deported in one of the six flights to Pakistan.

The men aboard the July charter jet to Islamabad, and others on the four flights before and one after them, were picked up at their homes, 7-Eleven stores, the pizza parlours, cab stands, gas stations and construction sites.

The outcast told stories of shattered families, separating husbands and fathers from their US-citizen wives and children. The deportation process was not as hyped then as of Donald J Trump's now. It happened to be a Justice Department enterprise aimed at hunting down men from various Muslim countries for suspected affiliation with 9/11 plotters or terror outfits. Within weeks, the nature and scope of the initiative changed, stretching to 24 largely Muslim countries. Tens of thousands of men were bracketed as high concern of national security. Instead of going after the suspects based on tips or leads, the US authorities implemented a systemic reporting system that was inherently discriminatory and broad-based. Muslims — Arabs, Pakistanis, Bangladeshis, Malaysians and Indonesians, etc. — were inherent suspects who had to prove not guilty. Meanwhile, wealthy Muslim families from suspect nations not only quietly transferred their savings to countries with little risk but also moved to Canada.

Though the Bush government claimed to have identified some individuals with alleged links to terrorists, the details were never made public in the name of national security. None of them was convicted of terrorism. Using religious identity was deemed the most useful tactic to curb terror threat. After the Pearl Harbour attack on December 7, 1941, the US used the country of origin (Japan) to populate internment camps. Civil liberties crumbled under the US Patriot Act while the imbalance created in the aftermath of 9/11 continued to tilt in favour of national security. Besides Muslims, the Trumpnet also includes Mexicans and Africans, which were excluded by the Bush administration.

Days of the passive revenge are over. In Trump's America, the church and state are no more separate. Hiding behind nationalism and religious rhetoric, the New York billionaire leads a set of men aspiring for purposeful and vindictive chaos. Wicked policies are being replaced with blunt stratagem. Bush was not shutting the door on refugees but illegal economic migrants. Trump's is shutting the door on people who are escaping wars, hunger and persecution by tyrant regimes.

A precise basic question boggles minds of policy analysts: will the 45th president be able to continue application of his executive orders? In certain cases such as immigration, execution of edicts is easy; while on scores others, congressional nod is necessary. For instance, Barack Obama signed the executive order of closure of Guantanamo. Since Congress did not agree with him, the notorious prison camp still remains. For proclamation such as on immigration, pressure of the civil society as seen at the airports and on news media already can result in review or softening of the injunction. America's global financial and strategic interests will also routinely give the administration much-needed reality check.

America's twitter dad may not stay laser-focused on his rash policies if his troops face hard battles with ISIS and Taliban in Iraq and Afghanistan respectively. Blanket denial of visa to Muslims is likely to provoke harsh retaliation, thus more disillusioned men affiliating themselves with the extremist groups detrimental to the US interests. At home too, the US law-enforcement machinery may lose support of Muslim communities fight homegrown extremism. Police departments across the country need Muslim communities fully on their side to help thwart any subversive activity by the extremists.

The fault lines are set to widen faster across the US society. The bitter war of narratives has already spilled across the Atlantic. The public opinion as far as Australia is not favourable to the man in the White House. Meanwhile, anti-US sentiment in the Muslim countries is scaling newer heights. Even though the Bush administration witnessed 9/11 unfold on its watch, it did soften the deportation policy in the later years. Acting out of sheer hate, Trump is isolating his polarised country from largely Europe's Christian friendly countries but also pushing Muslim nations towards China. If the event over his first fortnight at the White House can be any guide, America's kidney stone will be source of excruciating agony before it passes through the bladder after four years.

Not only does he plan to throw Washington's share of refugees on other rich nations, but also mulling over slashing UN funding. Even if the Trump administration does not start a new war, the world's refugee burden is record high today since the World War II.

Pakistan can't afford to harshly react against a ban that falls short of applying to its citizens. Instead Trump's visa snub against Muslim states agitates introspection: should the Afghan refugees be punished for Kabul's imprudent policies? The answer lies in kindness. After decades of accommodation, Islamabad ought not deport Afghans to face hunger and civil war or else Donald Trump's xenophobia stands vindicated. Unlike the passengers of the Icelandair flight, Afghans neither have homes nor livelihood to resume their lives in the war-ravaged homeland.

Published in The Express Tribune, February 4th, 2017.

Like Opinion & Editorial on Facebook, follow @ETOpEd on Twitter to receive all updates on all our daily pieces.