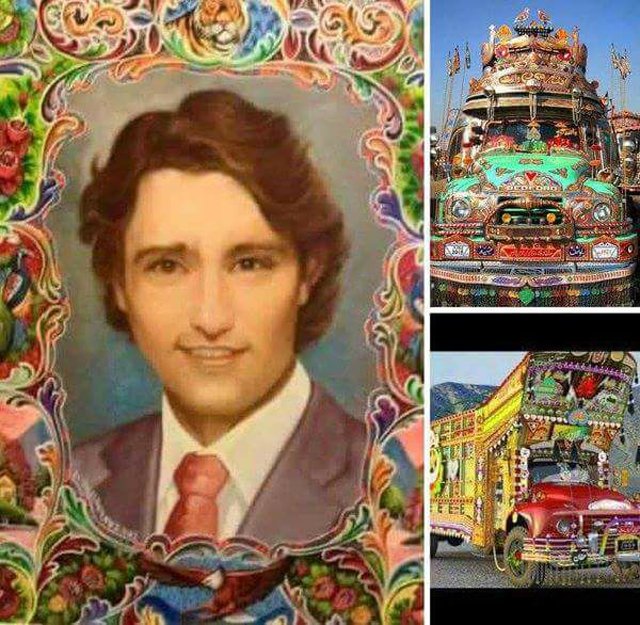 ---
Canadian Prime Minister Justin Trudeau has had Pakistanis swooning ever since he took oath.

Whether it was rocking a sherwani, eating biryani, visiting a mosque or sending heartwarming messages on Eid and Nowruz, Trudeau did it and we loved it.

In fact, Pakistanis' obsession with Trudeau could be gauged from the fact that Karachi was among 10 cities topping his global fan following on Facebook last year. Yet, Pakistanis have taken it a step further: Trudeau has been spotted at the back of a truck.

Karachi tops Trudeau's global fan following on Facebook

Pakistan is famous for its truck art world over. Along with complex floral patterns and poetic calligraphy, four kinds of people are usually painted at the backs of trucks. These are war heroes, Bollywood actresses, cricketers and religious persons or rulers, according to Payaam Trust.

This time, however, the Canadian premier has been seen on the back of a truck becoming possibly the first non-Pakistani politician to receive the honour.



Truck art dates back to the 1920s when the subcontinent was under British rule. Back then, the indigenous art form was used to decorate carriages belonging to British aristocrats. Thereafter, transport companies employed craftsmen to decorate their vehicles to give them an edge over rivals and attract more clients. The designs took on a greater purpose and significance. They became the pride and joy of truck owners and drivers and an integral part of Pakistan's culture after Partition.
COMMENTS (8)
Comments are moderated and generally will be posted if they are on-topic and not abusive.
For more information, please see our Comments FAQ