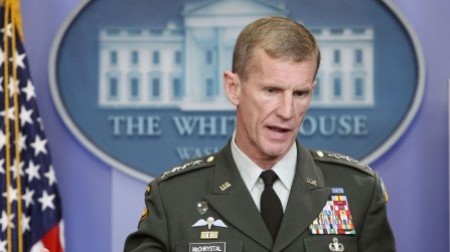 ---
WASHINGTON: General Stanley McChrystal, commander of US forces in Afghanistan, praised Pakistan's efforts to curb militancy on Thursday at a press briefing in Washington.

McChrystal said fighting terrorism within its own borders was important for Pakistan and the US, and important for partnership between the two states. General David Petraeus, Commander of US Central Command, also said the Pakistani military had gone after the Taliban effectively last year in its northwest territories. "It's important to give Pakistan credit for what it has done," he said in his key note address to the 2010 Joint War fighting Conference in Virginia.

The statements from both military leaders follow in the wake of US Secretary of State Hillary Clinton's remarks that Pakistan had to 'do more' to curb militants. Meanwhile Interior Minister Rehman Malik said foreign agencies will not be allowed to investigate would-be bomber Faisal Shahzad's case in Pakistan. "An inquiry into Faisal Shahzad's case has been filed and the investigation is being conducted according to Pakistani law. Any foreign agency or foreign elements will not be allowed to investigate in Pakistan," the interior minister said outside the Parliament House on Thursday.

"However, we will extend our full cooperation to the US authorities because we ourselves are suffering at the hands of terrorists," he added. Shahzad is the main accused in the failed bombing in New York City. He claimed to have been trained in Waziristan. The search for links between Shahzad and the Pakistani Taliban has not yielded any concrete results yet. Authorities searched four locations in the New York City and Boston suburbs in connection with the attempted Times Square bombing, arresting two people on suspected immigration violations on Thursday, the FBI said.

FBI spokesman Richard Kolko said the search warrants were in connection with the failed May 1 bombing but declined to comment on any link between the Boston area arrests and the bomb plot. He said the New York searches took place on Long Island. A separate FBI statement issued in Boston stressed that there was no known immediate threat to the public. The Boston searches were at a house in Watertown and a gasoline station in affluent Brookline. Vincent Lacerra, who lives across the street from the searched home in Watertown, told the Boston Globe he looked outside to see about 20 agents with guns drawn and pointed at the house, the Globe reported on its website. Soon afterward, a man was taken from the house and put into an Immigration and Customs Enforcement van.

Published in the Express Tribune, May 14th, 2010.