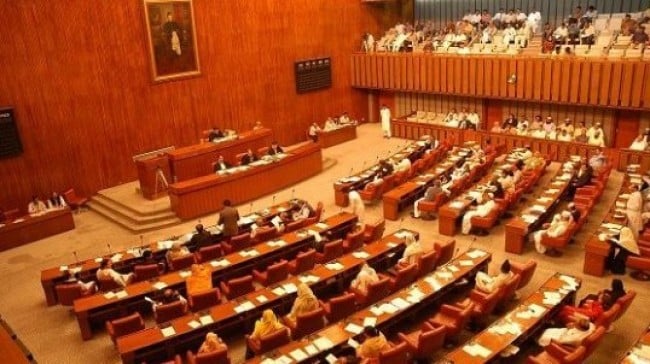 ---
ISLAMABAD: The Senate on Thursday unanimously passed the bill providing for the establishment of the Islamabad High Court.

The upper house made an amendment to the bill passed by the National Assembly. The bill will now go back to the National Assembly. The draft of the bill passed by the lower house of parliament had provided that the Chief Justice of the Islamabad High Court would be appointed on rotation from all four provinces and the Federally Administered Tribal Areas (Fata).

When the bill came to the Senate it was pointed out by Senators that under the 18th amendment it is the job of the judicial commission to appoint chief justice of the Islamabad High Court. And, they added, the commission could not be bound under the bill to limit itself to appointing chief justices on rotation. They said the commission will have to decide who is the suitable person to become chief justice of the IHC and that he or she could be from any province. The government agreed to the amendment proposed by the Senate.

The amended bill says that the judges and the chief justice of the IHC shall be appointed as per the Constitution. The IHC will consist of a chief justice and six judges. The amended bill will now go back to the National Assembly for voting. Leader of the opposition, leader of the house, the law minister and various Senators congratulated the house for unanimously passing the bill. Some Senators also spoke on points of order. Jamal Leghari of the PML-Q criticised the prime minister for addressing an election rally in Muzaffargarh district.

He accused him of violating the election rules. He said if the PM would violate the law then the ministers would follow suit. Najma Hameed of the PML-Q said the premier should not have gone to Muzaffargarh to address the rally of PPP candidate for the by-election. Tahir Mashhadi of the MQM criticised the Adviser to the PM on Finance, Dr. Hafeez Sheikh, for declaring there would be a 6 per cent increase in the electricity tariff. Kathumal of the PPP complained of severe water shortage in Mirpurkhas, Samro and Umar Kot areas of Sindh.

He accused Punjab of using Sindh's share of water. During the question hour, the federal minister for petroleum and natural resources informed the house that the government had stopped hiring people on contract basis. He said the previous government started hiring contract employees to save money that goes as entitlement to permanent employees. He said the current government has instead regularised contract employees. Minister of state for foreign affairs informed the house that the government has appointed some ambassadors on political basis which, he added, is according to law. The Senate session will resume on Friday morning.

Published in the Express Tribune, May 14, 2010.