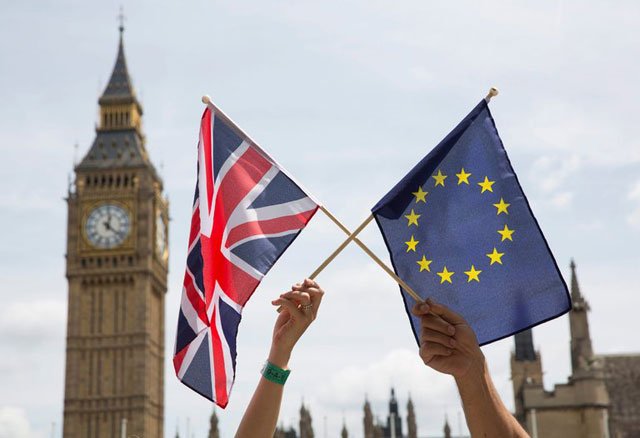 ---
LONDON: British MPs on Wednesday approved the first stage of a bill empowering Prime Minister Theresa May to start pulling Britain out of the European Union.

MPs approved the bill, which would allow the government to trigger Article 50 of the EU's Lisbon Treaty and formally begin two years of exit negotiations, by a margin of 498 to 114.

It was the first Brexit-related vote in the House of Commons, with a second and final vote in the lower house set for next week.

The opposition Labour party ordered MPs to not block the bill, but dozens rebelled. May is under intense pressure to push the bill through quickly, having promised EU leaders she would trigger Article 50 by the end of March.

She told MPs she would publish a long-awaited Brexit strategy paper on Thursday, opening it to parliamentary scrutiny while the Article 50 legislation makes its way through parliament.

"It will reflect the government's plan for Brexit," May's spokeswoman told reporters. The government had sought to exclude parliament, insisting it had the power to trigger Article 50 on its own, but the Supreme Court last week ruled it must consult lawmakers.

Most MPs campaigned to stay in the EU ahead of last June's referendum, but as debate on the bill began on Tuesday, many said they would accept the result, however reluctantly.

The bill could be delayed in the upper House of Lords, where May's Conservative Party does not have a majority – and where the unelected peers have no fear of a public backlash.

Their dilemma was laid bare in two days of debate this week on a bill empowering May to start the process, as MPs stood up one after another to explain why they would back her despite their fears for the future.

"I lost the case. I made it with passion, I sacrificed my position in government for it," said former Conservative finance minister George Osborne, one of the strongest campaigners against Brexit.

"In the end we have to now accept that in a democracy the majority has spoken."

Fellow MP Anna Soubry, who like Osborne has warned of the risks of leaving Europe's single market, said it was a "great folly" but agreed to back the bill.

"How on earth did we ever come to put to the people an alternative that we then said would make them worse off and less safe and would weaken our nation?" she said.

She added: "History will not be kind to this parliament." Labour leader Jeremy Corbyn ordered his MPs to support the bill in a preliminary vote on Wednesday, to reflect the fact that two-thirds of them represent constituencies that voted to leave the EU.

But his spokesman, Keir Starmer, one of a majority of Labour lawmakers who opposed Brexit, struggled through his Commons speech endorsing the bill.

Heckled by Tory MPs, he asked them to be "courteous" in accepting the deep divisions in his "fiercely internationalist" party over the policy.

Former minister Margaret Beckett said she too would fall into line, but said "I fear that its consequences, both for our economy and our society, are potentially catastrophic".

Dozens of Labour lawmakers rebelled, however, including Ian Murray, Labour's only MP in Scotland, who said he did so with a "heavy heart".

"I will do so in the knowledge that I can walk down the streets of Edinburgh South and look at my constituents in the eye, and say to them I've done everything I possibly can to protect their jobs, livelihoods and the future for their family," he said.

The MPs' turmoil was in stark contrast to the jubilation of those who have spent years in the political backwaters for their euroscepticism.

"Tonight there will be an historic vote in this place, a vote that I never thought I would see in my political lifetime," Conservative MP Peter Bone said.

His colleague Jacob Rees-Mogg had earlier hailed "that noble, brave, glorious decision the people made on that day of legend and song, June 23".

But Conservative former minister Ken Clarke, a committed europhile, poured scorn on pro-Brexit campaigners and accused them of pursuing a fantasy "wonderland".

The bill will then move to the Lords for debate from February 20, with the government hoping for their approval by March 7.

Published in The Express Tribune, February 2nd, 2017.