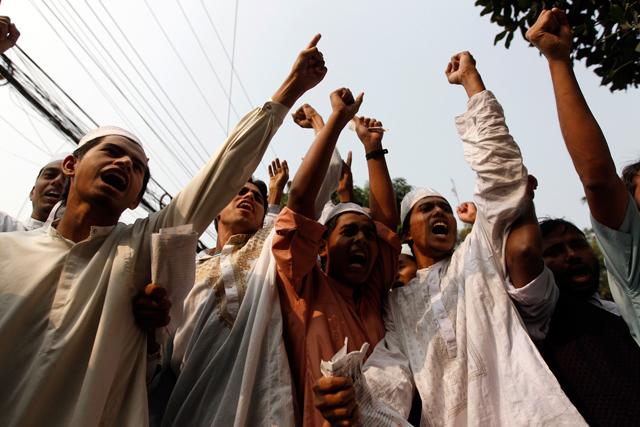 ---
DHAKA, BANGLADESH: Bangladesh's largest book fair began in Dhaka on Wednesday, with police warning organisers against selling books that hurt "religious sentiment" in the Muslim-majority country.

The month-long Ekushey Book Fair draws hundreds of thousands of visitors to the crowded capital, making it one of Bangladesh's keynote cultural events and giving readers a chance to interact with authors.

But the fair has incurred the wrath of extremists, who hacked and critically injured a top secular writer in 2004 and killed a US-based atheist blogger moments after he signed books for readers in 2015.

Outcry over Hungary's anti-Islam decree

Last year a 73-year-old publisher was arrested and his stall at the fair was shut down after a book called "Islam Debate" triggered protests by religious extremists who said the work was offensive to Muslims.

Police said they have tightened security for the annual fair in a park on the campus of Dhaka University, the country's main secular bastion.

Dhaka Metropolitan Police Commissioner Asaduzzaman Mia visited the fairground on Tuesday and asked the authorities to "scrutinise" the books before they are cleared to be displayed at stalls.

Curbs on extremist online content threaten free speech: report

"Therefore no book hurts civic, social and religious values," Mia said, according to a statement posted on the Dhaka police website.

"Hurting religious sentiment is a punishable offence."

The Dhaka police chief offered "special security" to writers and publishers and said that the park, except for the fairground, would be vacated by late afternoon as part of a series of safety measures.

There was no immediate comment from the Bangla Academy, a state-run publisher and research-based organisation which has been organising the event for decades.

But one leading publisher reacted angrily to the police's decision to scrutinise the content of books, saying such a move was "brutal and uncivilised".

Robin Ahsan, owner of the Shraban Prakashani publisher, told the New Age daily there was no other country in the world where "police are the watchdog over books", adding that such action would encourage extremists to launch attacks on writers and publishers.

Bangladesh has been reeling from a wave of attacks by religious extremists who have killed some 80 people, including around a dozen secular bloggers and writers.

Many of these attacks have been claimed by the Islamic State group or a local wing of al Qaeda.

But Prime Minister Sheikh Hasina's secular government has blamed local militants and denies that international militants have gained any foothold in the country.
COMMENTS (1)
Comments are moderated and generally will be posted if they are on-topic and not abusive.
For more information, please see our Comments FAQ