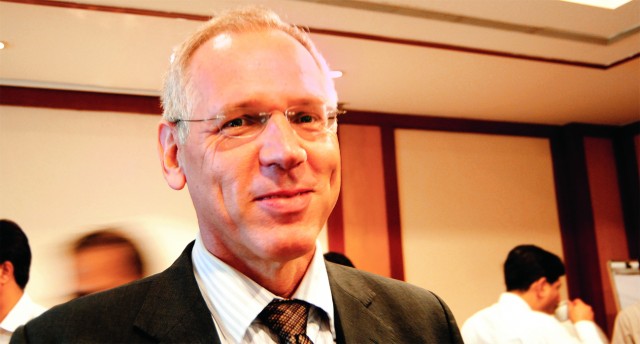 ---
KARACHI: Despite the fact that there is a surplus of four million tonnes of wheat in Pakistan, calorific intake has decreased by 10 per cent.

Small wonder then that the World Food Programme is saying that there has been a "dramatic increase in food insecurity" in Pakistan since 2007. Food insecurity leads to higher morbidity, mortality, a reduction in vitamin A supplementation, lower cognitive ability, lower productivity, impaired growth and impaired reproduction among people, said Wolfgang Herbinger, while speaking on "Nutritional Aspects of Food Insecurity" at a seminar organised by the United Nations WFP.

The primary objective of the seminar was to discuss the state of malnutrition in Pakistan within the context of broader socio-economic challenges currently faced by the country. Adviser to Sindh Chief Minister Dr Qaiser Bengali said that there is no reason for the state to exist if it cannot ensure the food security of its people. Dr Baseer Achakzai, who is the deputy director of the nutrition wing of the health ministry in Islamabad, spoke on behalf of the government and said that it is chalking out policies and plans for nutritional nourishment of the people. One programme has been introduced for mothers and children with the assistance of the World Bank, informed Achakzai, adding that province-specific food supplements will be used to take on micronutrient deficiency.

"Fruits and fresh vegetables are very important food groups," said clinical nutritionist, Dr Ayesha Khan. "The very low level of consumption of this food group in Pakistan contributes to micronutrient deficiency." Khan said that possible solutions to micronutrient deficiencies are increasing the variety of food we consume, adding micronutrients to daily food, supplementation and breeding crops to increase their nutritional value. Dr Romaina Iqbal, assistant professor at Aga Khan University, said that the problem in Pakistan is not just under-nutrition but also over-nutrition, which has become very common in urban Pakistan.

Women of reproductive age and infants are perhaps the most vulnerable population groups to suffering from malnutrition and the best time for child-health intervention is during pregnancy or the first two years of life, she said. The country director for Micronutrient Initiative, Dr Noor Khan, highlighted the wheat flour fortification programme and the introduction of sprinkles, which are supplements for micronutrient deficiency that are distributed among approximately 37 million malnourished individuals in Pakistan.

The political, macroeconomic and security challenges facing Pakistan are affecting those at the lower end of the economic spectrum, said World Bank's health specialist Dr Inamul Haq. "For the last two decades we have not been able to improve nutrition for the poor and if this scenario continues we will not be able to achieve the Millennium Development Goals," Haq said.

Published in the Express Tribune, May 14th, 2010.