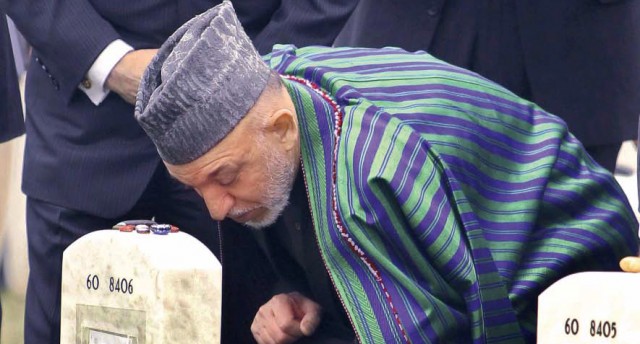 ---
WASHINGTON: Afghan President Hamid Karzai on Thursday paid a poignant tribute to US troops killed in Afghaistan, walking through Arlington National Cemetery, Virginia, where many US soldiers who died in different wars are buried.

The visit to the cemetery was part of the four-day visit by the Afghan leader to the US, aimed at mending fences strained by recent highly-public spats between Afghan and US administration. On Tuesday, Karzai had joined US Secretary of State Hillary Clinton on a tour of Washington's Walter Reed Army Medical Hospital as well where he met US soldiers injured in combat in Afghanistan, including one man who had lost both arms and legs.

Karzai, who has come under fire for corruption in his government, publicly told President Barack Obama how hard that meeting had been. "It was a very difficult moment for me, Mr President ... It was heart-rending," Karzai said at a joint press conference on Wednesday. Obama also provided an emotionally charged moment. "When there is a civilian casualty, that is not just a political problem for me," he said. "I am ultimately accountable ... that is something that I have to carry with me ... I don't want civilians killed."

Karzai has faced political pressure over the issue back home. While acknowledging there had been a strain on the relationship, Obama insisted that flared tensions were "overstated," as Karzai staged an effusive show of support for US war goals. During the visit, Karzai put on an assured political performance, at odds with his anger just weeks ago against foreign interference. "We are in a campaign against terrorism together, there are days that we are happy. There are days that we are not happy," said Karzai.

Only weeks ago, Obama aides said Karzai's claims that foreigners plotted fraud in Afghan elections were cause for "genuine" concern, after the US president told Karzai during a visit to Kabul that he must do more to fight corruption. But on Wednesday, Obama smoothed over that row, noting "progress" by Karzai on anti-corruption efforts, improved governance, and work toward credible parliamentary elections later this year. Obama said he was confident that the slow but steady progress would allow him to meet his goal of drawing US troops from Afghanistan by July 2011, and was also "encouraged" by Pakistan's actions against extremists.

Most senators also gave Karzai positive reviews. "Sounds like things are on very even keel, very positive, we didn't see any evidence of any lingering problem," said Senate Armed Services Committee Chairman Carl Levin. Obama also voiced support for Karzai's efforts to woo wavering Taliban members back into Afghan society if they renounce al-Qaeda and violence. A US military official, speaking on condition of anonymity, said Karzai wanted to negotiate a security agreement that would ensure US commitment to Kabul beyond July 2011, when the US military drawdown is scheduled to begin.

His four-day visit was elaborately scripted, with Karzai offered the full pomp of a White House visit on Wednesday, in an apparent bid to build his standing among US voters and to show that Obama's Afghan troop strategy was on track. Both Obama and Karzai appeared to appreciate the political strains weighing the other down, in apparent recognition that their fates are intertwined. "The most important thing we had in mind with this visit was making sure that we are aligned with the Afghans" on a series of looming challenges, the US military operation and efforts towards Afghan political reconciliation, a senior US official told AFP.

Despite the show of unity between the leaders, nagging questions remain over whether Karzai is willing or able to follow through on his commitments. It also remains uncertain whether, after years of heavy fighting, US and allied troops will be able to prevent militants from re-infiltrating captured territory, or whether Afghan security forces and institutions will prove able to hold their gains.

The senior official said the Obama administration now believed they were at least on the "same page" as Karzai's government on key issues. Alexander Thier, an Afghan expert at the US Institute of Peace, said both governments realised the damage that had been done to their war effort by public disagreements and wanted to move on. "I think every journey begins with a single step. Both the presidents are intent on repairing and broadening the relationship," he said.

Published in the Express Tribune, May 14th, 2010.