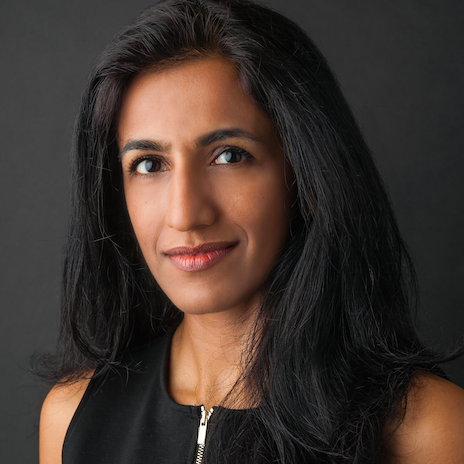 ---
The lack of women in tech has been a talking point for several years now, but some people are beginning to realize that the long-term solution lies in changing cultural attitudes entirely.

And nowhere are these attitudes more prevalent than in Asia – where boys have been traditionally encouraged to pursue STEM subjects by their families, in many cases at the expense of their sisters.

Ayesha Khanna witnessed this firsthand. She's a data analytics consultant and researcher based in Singapore. She holds a degree from Harvard and a Master's from Columbia. In 2013, while volunteering at a kids hackathon, she became acquainted with a little girl who was eagerly conducting an electronics experiment.

"I distinctly remember that her mother quickly came, kind of hushed her away, and put her son forward instead," says Ayesha. "The girl felt terrible, and, as a mother of both a daughter and son, I felt really bad too."

"She was very talented and deserved to be there. That really stuck with me"

So Ayesha did something. She set up 21C Girls, short for 21st Century Girls, with the mission to help reduce the systemic biases girls face in particular fields.

This Pakistani helped raise $350 million to slaughter Uber

She provides them a nurturing environment where the children can learn the basis of computational thinking. Hence the girls won't just be taught how to code, but also to think creatively, dabble in things like electronics and robotics, and solve real-world challenges.

21C Girls was registered as a charity in Singapore in 2014. There's absolutely no plans of ever moving to a for-profit. Ayesha says the eventual aim is to become an Institute of Public Charter, resulting in a tremendous amount of transparency in what they do – something she wholeheartedly believes in.

Building communities

The focus for 21C Girls has been, from day one, to involve local communities in their efforts. Its first program was called Techstars (not affiliated with the startup accelerator). It worked with Crescent Girls' School to train over 250 girls and teachers. The project is still ongoing, but has now been handed over to the teachers after they were trained in the specifics.

Classes were conducted on the weekends so as to try and keep schedule disruptions to a minimum and allow as many participants to join as possible.

The team has also conducted several robotics programs with the Singapore Indian Association as well as the Muslim Association, Mendaki.

"We've been both advocates and implementers. How we work is usually by talking to groups of people and facilitating programs for them," outlines Ayesha. "When Senior Minister of State Indranee Rajah asked us to set up a coding club in Tiong Bahru, we reached out to our partners, laid the vision, organized the program, and did marketing to attract students."

Having taught over a thousand students so far, it's now embarking on an ambitious, three-year program to triple that number.

It's called Code in the Community and classes are slated to begin in February. This time, however, it'll be open to both girls and boys, specifically targeting underprivileged communities.

"There are coding classes available for kids but they're expensive. Singapore is also trying to introduce it in the school curriculum. But we want to make it accessible for everyone," she says.

There'll be 20 weeks of coding lessons, with one class every weekend. Ayesha's team is working with the four main cultural associations in Singapore – Indian, Muslim, Eurasian, and Chinese – to identify the most deserving kids and bring them on board.

The curriculum will also take advantage of all the free resources available online. But the learning outcomes will be centered around building games, apps, or other products. Embedded in the classes will be basic concepts like functions and abstractions. There are no exams, just challenges that the students will be required to master.

This Pakistani startup offers solutions to differently-abled people

"I'm a firm believer that computational thinking is a civil right," states Ayesha. "It's as important as reading, writing, and speaking. For me it's imperative to bring advocacy into groups that are not given the opportunity to participate in what is believed to be the future economy. Right now it's women. In the future it could be another group."

Personal experience

Part of what motivates Ayesha to commit an extensive part of her time to this project has been her personal journey. She grew up in Lahore, Pakistan, and moved to the US for college. Her career started on Wall Street, where for 12 years she dabbled in things like algorithmic systems, derivatives, and data analytics.

Now she runs a technology consulting firm in Singapore while finishing her PhD from the London School of Economics. Her dissertation revolves around smart cities.

She's been attending top-tier schools and working with some of the brightest minds in the world. Now she wants other girls interested in STEM to have similar experiences.

In 2014, Ayesha was invited by the Singapore Ministry of Education to be part of a steering committee that would recommend new approaches in education to prepare students for the future.

Part of what Ayesha pushed for was a greater focus on improving critical thinking.

"It's fundamental to STEM," she says. "You need to teach the humanities, project management skills, strategies of computational thinking. Changing the ways things are taught is also crucial."

In the past, most university graduates in Singapore may have opted for what are traditionally viewed as "safe careers" in banking, finance, law, or medicine. But it's vital to open up new sectors of the economy and encourage greater links between academia and industry.

Ayesha believes a focus on creativity, critical thinking, and exposure to several subjects will help steer Singaporeans away from the regular paths and into different fields and organizations.

"You could start off as someone who studied philosophy, but then you might become a game designer. After that, you might start building robotics for the elderly. It's all about staying relevant as disruption and automation happens," she says. "You can't save yourself from automation unless you know what's being automated and create something on top of it."

Securing the future

I ask Ayesha how she's instilling these traits into the younger kids her organization works with. She excitedly points to the Fintech Camp that took place last year where 28 girls participated.

This Pakistani woman has created an app that could make business cards history

One of the objectives of the program was not to simply teach them skills but get them to solve a real problem. "We asked them to think about a scenario where their friend wanted to start a business and she needed a loan from a bank, but didn't have any existing bank account or credit history," says Ayesha. "How should the bank decide?"

The girls started analyzing concepts of trust, reputability, and how to build alternative credit models. They went out and interviewed people about whether they would extend credit to someone based on alternative paradigms.

In the seven-day bootcamp, they were also taught basic concepts of computational thinking – like recursions, loops, and wireframing as well as the essentials of design.

At the end of the course, the girls built a calculator through MIT's app inventor, a free tool that helps young kids build fully-functional apps. The calculator would approve or disapprove loan applications based on the digital footprint of applicants, including things like their social media history and mutual connections.

"We could have been very big by now," says Ayesha. "We've been asked to go to India, Hong Kong. But for us the idea is to find better ways of doing things and then handing it over to the community."

This article originally appeared on Tech in Asia.
COMMENTS (1)
Comments are moderated and generally will be posted if they are on-topic and not abusive.
For more information, please see our Comments FAQ