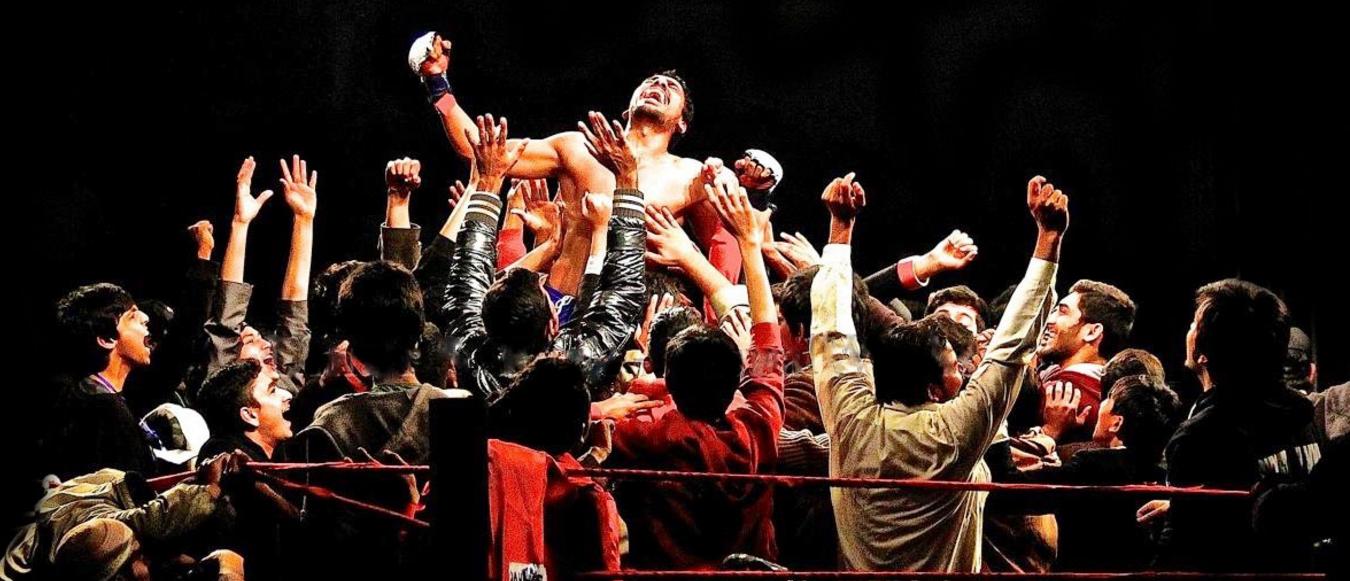 ---
Much has been said about how Mixed Martial Arts in Pakistan is on the cusp of a major breakthrough. The oft-promised 'big things' and 'mainstream success' are always just around the corner with the next few months said to be crucial in the sport's development.

While that enthusiasm is promising, any sports journalist worth his salt knows the same was said about football a couple of years ago.

The less said about the ugly plight of the beautiful game, the better.

People who love the squash also tried resuscitating their sport in the country but to no avail — the heights of Jahangir Khan and Jansher Khan have never been achieved again.

Similar efforts have also been unable to drag boxing out of the slums — literally.

Predicament in Pakistani sports, more often than not, proves to be permanent.

The difference is that the arc of these sports had actually peaked somewhere before going down south.

MMA, on the other hand, is a comparative infant about to take its first stuttering steps.

While there have been positives, they've been blown out of proportion and made to appear much larger than they actually are; social media has the power to do that.


Cricket questions at MMA presser — exactly what is wrong with our media


In the unregulated realm of Facebook where anything goes, simple non-title victories have been bandied around as championship wins, while the records of some golden boys have been intentionally padded up to make them look good, look invincible.

This, by no means, means that there isn't that initial spark, that early promise, or that the powers that be do not have a potentially exciting product to sell.

MMA can become a staple in Pakistani sports but not with the 'underground' image it continues to carry, and certainly not until a concerted effort is made to build upon the initial groundwork already in place.

As someone once said, "The saddest thing in life is wasted talent." Without the blood, sweat and tears, very rarely does talent reap success.

MMA has the talent. But to take the next step, more needs doing. We take a look what they must do to grow into a huge success.

Hold more events

From boxing's Muhammad Waseem to MMA's very own Ahmed Mujtaba, there is no shortage of Pakistani athletes who regularly complain about being ignored by their countrymen.

What they don't get is that it's unfair to ask a common Pakistani to care about an alien sport, until they've been given enough opportunities to witness the action first-hand.

A Mr so-and-so fighting twice a year and thousands of miles away from home in a bout that isn't even broadcasted live doesn't help anyone.

The only sure-fire way to grow the sport and develop a loyal fan base is to hold more events locally.

As they say, seeing is believing.


Pakistan MMA star Ahmed Mujtaba's next opponent revealed


Learn to work the media

The combat-sports athlete is a different animal. He has to be a showman, both inside and outside the ring. The pressers, the braggadocio, the bling and the motormouth — these are all prerequisites of a successful fighter.

This is needed because, unlike a football or cricket player, an MMA fighter doesn't have the history of a club or country to lean on. He has to sell his fight before fighting his fight, create rivalries before he can defeat rivals.

This blueprint was first devised by early 20th century pugilist Jack "the Galveston Giant" Johnson. The great Mohammad Ali made it cool before Floyd Mayweather Jr and Conor McGregor perfected it to make their millions.

This larger-than-life aura is in direct clash with the traditional martial arts ethos that revolve around respect and is prevalent all over Pakistan.

A typical Pakistani MMA fighter is shy, keeps to himself and hasn't quite figured out how to generate quotable quotes to feed the press. Unless they learn how to work the media to their advantage a la Ali, McGregor or even Shahid Afridi, theirs will always be an uphill task.

Go/Embrace Urdu

Fighting Alliance, the country's premier MMA promotion, tries to emulate the benchmark set by UFC, ONE FC and other global behemoths.

While there is no shame in imitating the best, there is no harm either in tweaking the content to suit local taste.

And the local taste is Urdu.

Even in this day and age, the Urdu language trumps English in terms of usage within Pakistan. And if you're proposing a product for all and sundry, better wrap it in their own packaging rather than force it in English — a language only a minority understands.

"Nazreen, Islamabad kay Uloomi Karim nay Karachi kay Owais Shah ko buri terha pacharnay k bad ab gardan ka dao laga dia hai, " narrates the commentator. (Viewers! Islamabad's Uloomi Karim has put Karachi's Owais Shah in a headlock after slamming him on the floor).

This TV news Urdu may sound cringe-worthy at first, but it is the way forward. If you need the general population to take notice, speak their language.


Date set for Fighting Alliance 5


Ring announcer

Some of the most famous catchphrases in all of sports have all originated from combat sports.

Think of Michael Buffer's trademark "Let's get ready to rumble!," Jimmy Lennon Jr's "It's showtime!" and PRIDE legend Lenne Hardt's...well everything that came out of Lenne's mouth was electrifying.

These MCs' elocution before main events is an event in itself. You just cannot listen to their catchphrases and not have goose bumps. In a way, the main event becomes the ending act for these ring announcers.

The local game is missing that voice of MMA.

Imagine Fakhar-e-Alam with the mic in his hands, take centre stage before Fighting Alliance 5's main event. One may not be a fan of his music, but his mastery on the microphone is undisputed.

"Khawateen-o-hazrat! Waqt hua chahta hai us dangal ka jis ka hum sab ko intezar hai, (Ladies and gentleman! It's time for the fight we have all been waiting for)," he enunciates with a dash of vocal drama.

Add a creative catchphrase or two and game is on.

An umbrella organisation

Government's absence in MMA is taken by many as a blessing but they're missing the silver lining.

With federal involvement, the game, despite all the corruption, also has a direction. No matter how geographically dispersed the athletes are, they work towards that common goal.

Since MMA is a privately run sport, the goals and objectives of all athletes as well as their promotions are different. To counter this, Pak MMA, supposedly the sport's umbrella organisation, will have to live up to its name.

So far, Pak MMA has been a ceremonial entity rather than an actual governing body. That can change, provided that sport's local leaders join forces and turn it into an entity that not only represents them all but helps out and monitors all MMA action across the country.
COMMENTS (1)
Comments are moderated and generally will be posted if they are on-topic and not abusive.
For more information, please see our Comments FAQ