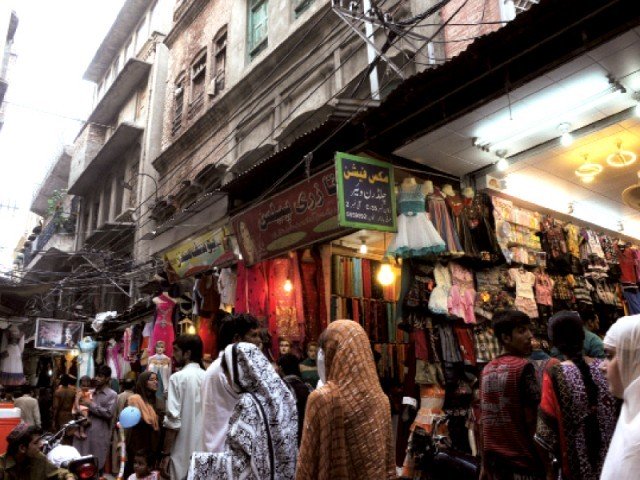 ---
RAWALPINDI: Over 200 traders from Bara Market in Raja Bazaar have lodged written complaints with City Mayor Sardar Naseem Khan against rampant encroachments in the old market. They have alleged that Rawal Town Municipal Administration (RTMA) staff had been facilitating the encroachers.

In the complaint, the Bara Market traders alleged that RTMA staff was being paid off by the encroachers to take no action against them.

In the complaint, a copy of which is available with Express Tribune, traders said that road in Bara Market was 80 feet wide and about 300 feet long, with shops on both sides.

The road remains blocked due to permanent encroachments. The congestion makes it impossible for pedestrians to enter some roadside shops. The encroachers also harass women visiting the market, which has a large number of clothes, shoes, and cosmetics vendors.

Talking to The Express Tribune, Akbar Khan, one of the complainants, said that they had also filed complaints with the regional and city police officers, and the deputy commissioner, besides the mayor.

He said that they had already filed a complaint with the Anti-Corruption Establishment (ACE) against TMA officials allegedly involved in getting illegal gratifications from the encroachers.

Mayor Sardar Naseem was not available for comment despite repeated attempts.

In the meantime, a division bench of Lahore High Court on Monday suspended the decision directing the ACE director and the FIA director to collect information about the assets of the deputy commissioner, executive officers of the Rawalpindi and Chaklala cantonment boards, and their subordinates down the line to inspectors who are responsible for removing encroachments.

Justice Mamoon Rashid Sheikh and Justice Khalid Malik of the LHC Rawalpindi bench suspended the January 10 decision of Justice Ibadur Rehman Lodhi in a contempt of court petition.

The deputy commissioner and executive officers of cantonment boards through their lawyers filed two identical intra-court appeals on Monday that the bench took up the appeals on the same day.

They had maintained before the division bench that the single bench could not order an inquiry into their assets in the contempt hearing. The bench, after their arguments, suspended the decision of Justice Lodhi.

Justice Lodhi issued the order for an inquiry into assets of municipals officers after they failed to implement court's orders regarding removal of encroachments in city and cantonment areas.

The LHC bench will take up the appeals hearing again on February 9.

Published in The Express Tribune, January 25th, 2017.