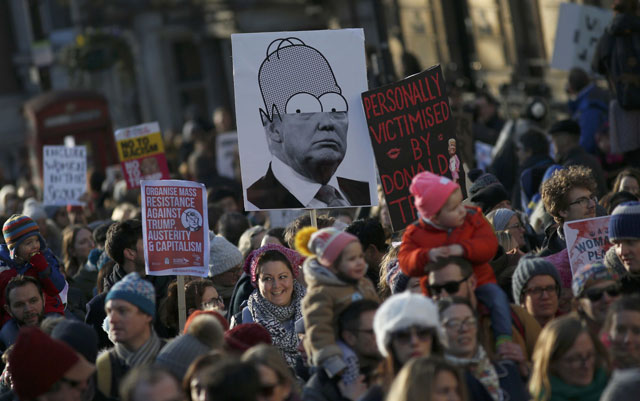 ---
LONDON: Thousands of people marched through central London on Saturday as part of a global day of protests against new US President Donald Trump and his derogatory remarks about women.

The largely female crowd, which also had many men and children, marched from the US embassy to Trafalgar Square, chanting "dump Trump" and waving banners demanding equal rights.

"Trump Special Relationship: Just Say No" and "Our Rights Are Not For Grabs - Neither Are We" were among the banners held aloft, along with "We shall overcomb" and "Make bigotry wrong again".

Hannah Bryant, a 34-year-old museum worker, brought her four-year-old daughter - both of them wearing bright pink "pussy hats" worn by US demonstrators.

Rioting, protests erupt in US

"I've been teaching her about equality and prejudice, and I wanted her to see how many people believe in it," she said.

Oliver Powell, a 31-year-old actor, who called the new US president a "hideous person", said: "I want the majority of Americans who didn't vote for him to know they have support across the world."

"You can't believe he's real," said his friend, 36-year-old Emily Chase.

Many marchers were mothers and daughters, joining unionists, feminist groups, rights organisations and London mayor Sadiq Khan in global protest on the day after Trump's inauguration.

Donald Trump sworn in as 45th US president

"It's a feeling of solidarity - not in our name," said Jill Pickering, a 56-year-old American student. "I'm angry - I didn't vote for Trump."

"For me it's a message of hope," said her friend Sarah Macdonald, a 51-year-old company director. "I think that this is going to galvanise the liberal parties, the Democrats [in the US] and the leftist parties in this country that have suffered electoral defeat. What do we have left? Protest," she added.

Their friend Kirstin Hadley, a 43-year-old lawyer, said: "We have to come out and say we won't accept this. You cannot be apathetic any more."
COMMENTS
Comments are moderated and generally will be posted if they are on-topic and not abusive.
For more information, please see our Comments FAQ